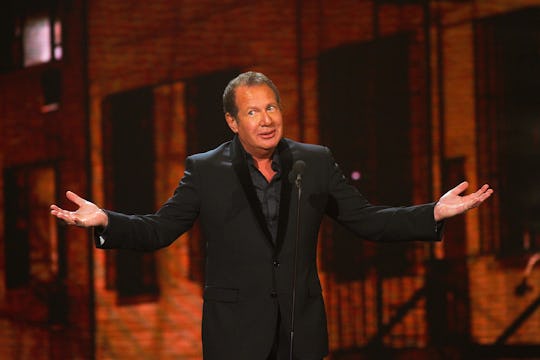 Dimitrios Kambouris/Getty Images Entertainment/Getty Images
This One 'Larry Sanders Show' Scene Proves Why Garry Shandling Will Be So Sadly Missed — VIDEO
On Thursday, March 24, news broke that Garry Shandling died, and the comedic world — along with the rest of us — came to a screeching halt. Shandling, creator of The Larry Sanders Show, died suddenly on March 24, according to TMZ, at just 66 years old, and a source for TMZ says that a 911 call was placed from the star's home. However, this information has yet to be confirmed by Shandling's camp. Shandling, one of the founding fathers of late night television, was beloved for his humor and his show, The Larry Sanders Show, which offered fans a behind the scenes look at what it takes to make a show tick.
"The Hankerciser 200" is a scene beloved by fans, and in a critique written by A.V. Club author Kyle Ryan, Ryan writes, ""The Hankerciser 200" has it all, really," and it's true. The comedians on screen flow freely between their on-camera personas and their real-life personalities, and it's a testament to the pure power and talent both have. It's also a stark reminder of the comedic talent we've lost, and this one video only proves how deeply his absence will be felt by the entire comedic community:
Though I never considered myself a raging Shandling fan (and to be entirely honest, The Larry Sanders Show ended when I was just 1 year old), watching this clip so clearly makes known the type of talent we've lost that I'm devastated that I didn't take the time to appreciate his comedic genius before it was too late. The scene begins with the iconic Jeffrey Tambor (who plays Hank Kingsley) and Shandling (who plays, obviously, Larry Sanders) staging a ton of promo spots for The Larry Sanders Show, and it's hilarious, both because it's so wonderfully retro and outdated and also because the two have such an easy rapport between each other. Though this episode very much hinges on Hank Kingsley's character, I love the back-and-forth between Tambor and Shandling. The two make it seem so effortless, and as we've all come to learn, making it in the comedic realm is incredibly difficult.
A.V. Club author Kyle Ryan noted that, ""The Hankerciser 200" nicely mixes a story about Hank endorsing yet another crappy (and dangerous) product with another about Arthur [played by Rip Torn] trying to show a class he teaches at UCLA a "typical day" at The Larry Sanders Show." The episode is so great because it highlights one of Shandling's greatest assets as an actor, a comedian, and also a showrunner: offering people a platform to stand out, and watching them absolutely nail it each and every time. Obviously the episode is funny, but at its core, it's Shandling at his best. And as the comedic world mourns the loss of yet another iconic role model, it's video clips like the above that will remind us of all we gained during Shandling's tenure. It doesn't make his loss any easier, but knowing that his work is preserved in time at least a little bit comforting.