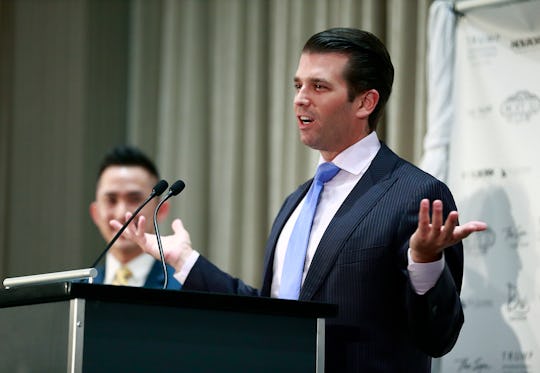 Jeff Vinnick/Getty Images News/Getty Images
This Donald Jr. Line Could Come Back To Haunt Him
On Tuesday night, "high-quality person" Donald Trump Jr. went on "great person" Sean Hannity's show to defend himself amid revelations that he sought out damaging information on Hillary Clinton from Russian sources during the election. Donald Jr. has changed his story many times up until this point, so one particular line from Donald Jr.'s Hannity interview could come back to haunt him, if that trend continues. During the interview he said that, when it comes to him and Russia, "This is it... this is all of it." Hmm. You ready to pinky swear on that, Donald Jr.?
An incriminating email exchange hit the press (and, strangely, Twitter, when Donald Jr. tweeted it out himself) on Tuesday. Rob Goldstone, a publicist and former tabloid reporter, contacted Donald Jr., offering the Trump campaign "information that would incriminate Hillary" via the "Crown prosecutor of Russia." Goldstone continued,
This is obviously very high level and sensitive information but is part of Russia and its government's support for Mr. Trump.
Donald Jr. responded, "if it's what you say I love it," and set up a meeting to obtain the info.
Though the meeting materialized, the "incriminating" information did not. During his Tuesday night Fox News appearance, Donald Jr. described the meeting as "a nothing... literally just a wasted 20 minutes." But that doesn't change the fact that he took it in the first place.
And downplaying the meeting, or making meaningless excuses that he's dealing with a "learning curve" when it comes to not colluding with a foreign government to interfere with an election also doesn't change the fact that Donald Jr. lied about the email exchange. In fact, he lied multiple times before The New York Times published the receipts, only changing his story when emerging evidence forced him to.
During the election, after the email exchange, Donald Jr. dismissed the claim that Russia was trying to help President Trump in an interview with CNN's Jake Tapper, calling it "disgusting" and "phony." In March, he said he never set up a meeting with the Russians while representing the campaign. And then, when word of the meeting broke, Donald Jr. claimed it was merely about a Russian adoption program in a statement to the media.
The new evidence about Donald Jr. contradicts his own previous statements, as well as statements from the White House, which did not respond to Romper's request for comment.
(If he were a certain wooden puppet, his nose would be as long as an elephant's tail by now.)
It's hard to see why Americans should trust Donald Jr.'s promise to Hannity that "this is all of it," when he has misled the public, again and again. We may be returning to this particular interview statement very soon.