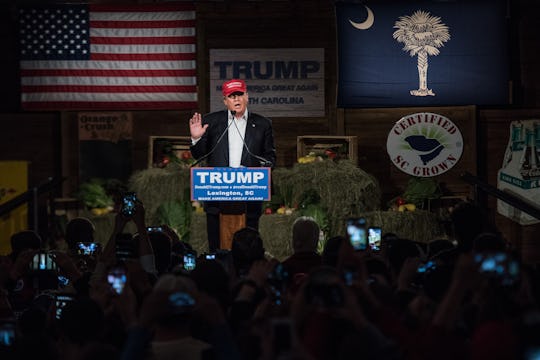 Sean Rayford/Getty Images
This One Quote Proves Why Donald Trump Should Not Have Skipped The GOP Debate
He might be courting controversy by skipping out on the last GOP debate before the Iowa caucuses, but real estate mogul Donald Trump sent the wrong message to voters with his so-called boycott. In an economy when people are struggling for jobs, Trump's choice to skip the debate proves how-out-of touch with Americans he really is, and his opponents are certainly picking up on this very point. In fact, Texas Sen. Ted Cruz made the point himself again and again during Thursday's Republican primary showing — and this one quote proves that Trump really missed out on a major opportunity to fight back.
As much as I hate to agree with the ultra-conservative Cruz, the man is speaking facts here. For a little background: Earlier in the week, Trump had decided that moderator Megyn Kelly was too biased against him and backed out of the debate, opting to host his own event instead. But this "strategy" just gave his opponents, Cruz in particular, a chance to make fun of him without giving him the oppotunity to respond.
When Kelly opened the debate by addressing "the elephant not in the room tonight," (aka Trump), here's what Cruz had to say:
Everyone on this stage is fat, stupid, and ugly. And Ben, you're a terrible surgeon. Now that we've got the Donald Trump portion of the evening out of the way...
Too bad he wasn't as articulate when trying to explain why America should carpet bomb the Middle East. When flustered by moderator Chris Wallace, Cruz brought up Trump's absence as a diversionary tactic. "If you ask one more mean question, I might have to leave the stage."
During a campaign stop in Fairfield, Iowa on Tuesday, Cruz attacked Trump for bailing, comparing his unwillingness to participate in the debate to someone wanting a job, but not bothering to show up for the interview. "Anyone running for president of the United States owes it to the people of Iowa to have the humility to come in front of you, to make the case, to answer the hard questions and look you in the eyes — this is a job interview," said Cruz. "You know what, if someone did that, didn't show up at the interview, you know what you'd say? You're fired."
With unemployment rates at 5 percent, almost as low as they were at the start of the 2008 recession, that means there are a lot of jobless people out there (7.9 million according to Trading Economics). And I don't think those people are going to like Trump's attitude of entitlement.
Cruz is Trump's most formidable opponent, and the latest polls show the two candidates in a tight race, especially in the all-important battle over Iowa, according to Politico.
Cruz lashed out again at Trump early on Thursday, prior to the Fox News debate, posting a Snapchat photo of himself with a rubber duck geofilter that had Trump's hair, and questioning, "Where is Ducking Donald?" As silly as it was, Cruz had a valid political point. (Give it up to this crew of Republicans for stirring up controversy, and er, ruffling some feathers.)
Cruz wasn't the only one to poke fun at Trump's absence during the debate or on social media. Florida Sen. Marco Rubio took a more lighthearted approach, calling Trump the "greatest show on earth." Democratic rival former Secretary of State Hillary Clinton tweeted that though Trump "[wasn't] on stage", much of the same "backwards ideas and out-of-touch rhetoric [would] be out in force."
Oh, Trump. Even in absentia, you loom larger than life. Perhaps Trump would have done better for himself if he had actually attended Thursday's debate — his angry rhetoric would have likely fit in just fine.