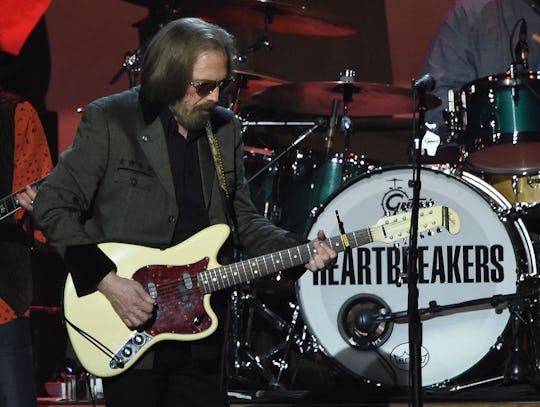 ROBYN BECK/AFP/Getty Images
This One Tom Petty Quote Will Get You Through Even Your Worst Days
Because this is apparently one of the worst Mondays on record, news broke late Monday that Tom Petty, who led the Heartbreakers, died at the age of 66, according to Rolling Stone. Now, people are turning to memories of their first (or repeated) Tom Petty concerns, and Tom Petty lyrics that accompanied them through their worst or best times. But this one Tom Petty quote is the one that everyone seems to be turning to Monday, because it's just that iconic and powerful.
Update: According to CNN, Tom Petty has died, after being placed on life support. TMZ originally reported that the musician had not died, despite reports, and was "clinging to life" earlier Monday night.
News of Petty's death came out in a sort of strange way. CBS originally confirmed the report via the Los Angeles Police Department, saying the singer had died after suffering from cardiac arrest. But then TMZ reported that the singer was not actually dead and that he was "clinging to life," though his family had turned off life support and a chaplain was reportedly called to his room. CBS News reported that the LAPD could not actually confirm the singer's death, with the LAPD tweeting that it actually has no investigative role in Petty's reported death.
But later that night, the sad news did come that Petty had indeed died. The musician was described as a "dynamic and iconoclastic frontman" by Rolling Stone's Kory Grow, and it was clear from the tributes on Twitter just what he meant to many of his fans. But what stood out most were the quotes and lyrics that people were choosing to share. After news of the mass shooting in Las Vegas that left almost 60 people dead, the power of the below lyric is especially chilling and significant:
The lyrics, shared by hundreds of Tom Petty fans across the internet, are:
Well, I know what's right.
I got just one life.
In a world that keeps on pushin' me around.
But I'll stand my ground.
And I won't back down.
The lyrics are from the song "I Won't Back Down," which was written by Petty and Jeff Lynne, and was the first single from Petty's 1989 album Full Moon Fever, according to SongFacts.com. Petty apparently wrote the song after an arsonist tried to burn down his house while he and his family were inside of it. (Yeah.) Petty reportedly said the song "frightened" him, because of how personal it was, in aa 2006 interview with Harp, according to SongFacts.com:
That song frightened me when I wrote it. I didn't embrace it at all. It's so obvious. I thought it wasn't that good because it was so naked. So I had a lot of second thoughts about recording that song. But everyone around me liked the song and said it was really good and it turns out everyone was right — more people connect to that song than anything I ever wrote. I've had so many people tell me that it helped them through this or it helped them through that. I'm still continually amazed about the power a little 3-minute song has.
And it's clear that Petty's "won't back down" nature didn't seem to stop with just that song. Petty was, to many fans, committed to rock in a way that many musicians weren't. He seemed to really love it. He told biographer Warren Zanes, according to Variety:
The first time you count four and, suddenly, rock and roll is playing — it's bigger than life itself. It was the greatest moment in my experience.
And he reiterated that devotion to rock in an interview for Esquire's "What I've Learned," according to the publication:
If you're phony, they will feel it in the farthest row of the arena. You have to really care. And you have to make yourself care time and time again.
And it seems that that's what people love about "I Won't Back Down": it's incredibly real. There's nothing phony about it. It is sort of tragic, but it's the kind of story that we encounter every day, and it definitely represents the incredible legacy that Petty is leaving behind.