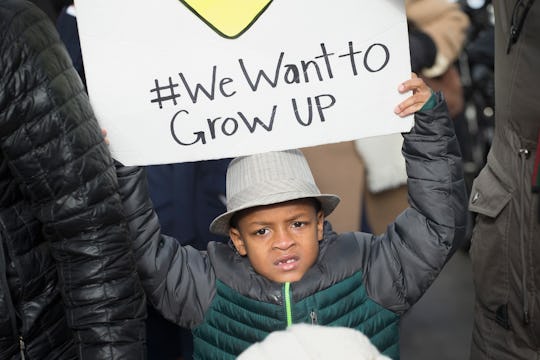 Scott Olson/Getty Images News/Getty Images
This One Tweet About Alton Sterling's Death Shows How Deep Societal Racism Goes
Alton Sterling, a 37-year-old black man and father of five was shot and killed early Tuesday by police officers who alleged that he threatened them with a gun, according to CNN. What the Baton Rouge Police Department is calling an "altercation" reportedly began when officers responded to a 911 caller said a man was threatening him with a gun outside of a convenience store. Though the BRPD's statement doesn't reveal any details of the "altercation," disturbing footage of what happened and of Sterling's death has since been released online. It shows two police officers pin Sterling to the ground. As they are restraining him on the ground, someone says "He's got a gun," yelling begins, and then multiple bangs (what some are reporting are gunshots) can be heard. Sterling was the only one shot. The footage has left many asking "Why was a man who was being subdued on the ground shot?" This one tweet about Alton Sterling's death captures a disgusting theme of officer-involved shootings and perfectly summarizes just how deep racism goes.
The BRPD has since released a full statement on Facebook about the shooting, but it failed to reveal any information about the officers involved:
OFFICER INVOLVED SHOOTING ON NORTH FOSTER DR
Baton Rouge Police are investigating an officer involved shooting that occurred around 12:35am this morning at 2112 North Foster Dr, Triple S Food Mart. Uniformed officers responded to a disturbance call from a complainant who stated that a black male who was selling music cd's and wearing a red shirt threatened him with a gun.
Officers made contact with ALTON STERLING, 37, 6061 Plank Rd, in the parking lot of the business. An altercation between Sterling and the officers ensued. Sterling was shot during the altercation and died at the scene.
Two BRPD officers have been placed on administrative leave per standard procedure.
This is an ongoing investigation.
Instead, the only information about those involved in the shooting has been entirely about Sterling. Specifically, and horrifically, details about Sterling call him a "nice guy" and a "gentle giant" but also provide details about his previous alleged criminal record. Not even the names of the officers who shot him have been released, and yet people are already looking for a justification for his death. The horror of the logic was perfectly highlighted in a tweet from activist and policy analyst Samuel Sinyangwe:
Deep, subconscious racism seems to drive people to ask "Well did he deserve it?" or "What kind of person was he?" rather than "Why did you (the officer) shoot him?" And, unfortunately, they're not new questions.
The backgrounds of Freddie Gray, Eric Garner, and Michael Brown (to name only a few) were all investigated as people searched for a justification for their deaths, even though the past actions of anyone can never be used as justification for being shot in that moment. Additionally, the fact that someone has past criminal convictions (or even if they committed a crime that they are being arrested for), they are not less of a person. People are afforded due process rights, and past convictions or even alleged convictions they have yet to be tried for never justify their deaths.
Sinyangwe's tweet makes a blunt point: parts of society seek to justify black people's deaths — not mourn them. The names of the two officers who shot Sterling haven't even been released, yet people are already seeking to make Sterling's death more palatable. Right now, the world is such that prison would have a "severe impact" on a convicted, white sexual assailant, but the punishment of death for black people involved in officer shootings is answered with "Maybe he shouldn't have broken the law."