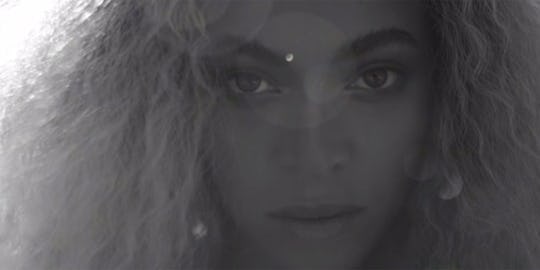 HBO
This One Tweet About Beyonce's 'Lemonade' Reveals The Theme Behind Beyonce's New Album
Beyoncé certainly knows how to run the world, and she keeps it running with plenty of intrigue and surprise. I mean, she managed to get hundreds of thousands of people to tune into HBO at 9 p.m. on a Saturday night without even telling them why. Yes, I'm talking about Project Lemonade. She didn't even give people a hint (because those vague trailers don't really count as a hint, right?), and yet the entire Beyhivé was present to see the mystery unveiled. In case you missed the show, this one tweet about Beyoncé's Lemonade summed it up best.
Originally nicknamed "Project Lemonade" by fans, this world premiere has been shrouded in mystery for a while. As Entertainment Weekly reported, some said Lemonade would be a "lengthy concept video," while others expected a visual album or a documentary-style special. As it turned out, it was a visual album that shocked, wowed, and definitely delivered.
Lemonade managed to be many things at once: it contained powerful images, had amazing spoken word by Beyoncé threaded through it, and seemed to hold an entire story of betrayal and redemption in the span of 12 songs. One theme was especially strong throughout the entire album, however — from "Daddy Issues" to "Sorry" to "Freedom," there was a strong sense of power, and it seemed like a power that had been passed from mother to daughter for generations.
There were many references to Beyoncé's roots, and when she mentioned the women in her life, she emanated strength and resilience. "Your mother is a woman, and women like her can't be contained," she said during one sequence. During several parts of her spoken word speech, she paid tribute to her grandmother as well, saying, "My grandma said nothing real can be threatened."
Beyoncé even included an audio clip of Malcolm X's phrase, "the most disrespected person in America is the black woman," to solidify her message in case you missed it. Lemonade pays homage to the strength of African-American women, and this one tweet captured the essence of the song perfectly:
There was sadness, anger, and love throughout the lyrics in this album, and they were paired with powerful images. Mothers held pictures of their killed sons, including Trayvon Martin and Mike Brown, according to CNN. Similar to Beyoncé's music video for "Formation," there were flashes of New Orleans, and Beyoncé's own life was shown in clips — her wedding to Jay Z, herself as a young child.
It was a powerful and moving homage to African-American women both past and present, and that strength and resilience echoed throughout each song. I didn't think Beyoncé could have an entire album live up to "Formation" — but the 11 songs she dropped tonight make it even more powerful.