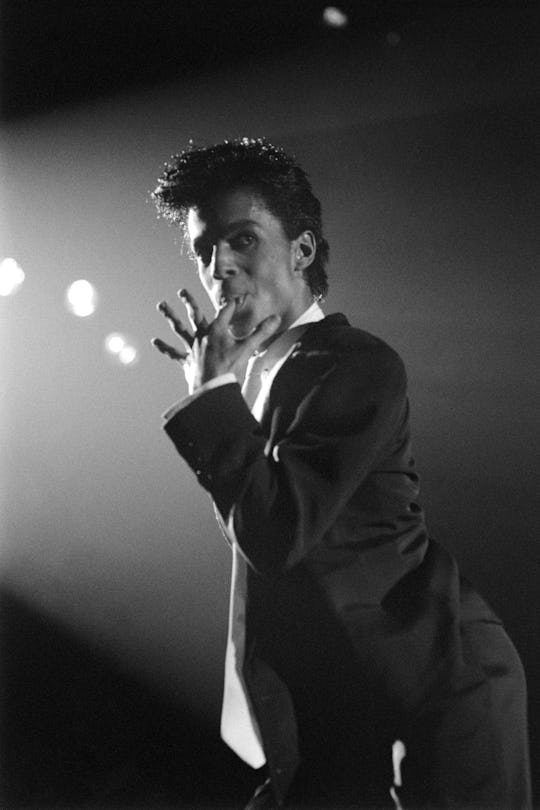 PASCAL GEORGE/AFP/Getty Images
This One Tweet About Prince Shows Exactly Why He & His Music Were So Important
Pop music lost another legend today. The musical artist Prince was found dead in his home in on Thursday, CNN confirmed via statements from the artist's family and publicist. The "Raspberry Beret" singer pioneered "the Minneapolis sound" and fought for artists' right to creative freedom in the music industry. Prince's death comes three months after the tragic loss of David Bowie, another music icon. Both men were important for changing both the industry and gender norms. In one single tweet about Prince on Thursday, journalist Alyssa Rosenberg summed up the loss of both legends elegantly: "A (very) brief Prince and Bowie thought," she wrote. "We've lost two artists who acted as reminders that there's no one right way to be a man."
Born in 1958, the "Purple Rain" artist's unique sense of style and personality made him a global superstar in the '80s. On stage he would vamp, swagger, preen and tease his adoring fans into a frenzy. His androgynous appearance lent itself to a type of sexuality that both women and men appreciated.
Prince was a true outsider in the music industry. He blended rock and soul together at a time when rock and pop radio were still very segregated. As a black man who wore crazy outfits with brocade, lace and ruffles, Prince urged listeners to think outside the conventional gender box.
Bowie began exploring this type of gender-fluidity in the '70s. His gender identity and sexuality became like costumes that would fit different characters, like the infamous, flamboyant Ziggy Stardust.
Both stars blurred the lines of binary gender norms and made androgyny a "cool" concept. Bowie wore a dress on the cover of The Man Who Sold the World and Prince developed a female alter ego named Camille.
Their personas contradicted society's traditional understanding of gender roles. They rejected the notion that for a man to be sexy, he must be rough, rugged, and not care about his feelings or appearance. Bowie and Prince cared, a lot. These artists wore make-up and ornate costumes with ruffles and sparkles. They feathered their hair and revealed their emotions. Embracing gender ambiguity and creating a sexy mix of the masculine and feminine, the stars unveiled a new kind of sensuality.
Prince's 1982 gender-bending song, "If I Was Your Girlfriend" features graphic sexual lyrics, like: "Would you let me kiss you there/You know, down there, where it counts?/I'll do it so good/I swear I'll drink every ounce." (Fun fact: It took me awhile to find a lyrical example not because there aren't any but because most of them were too dirty for me to type). However, the track blends that overt sexuality with a desire for intimacy. Prince is asking his partner to treat him like one of her girlfriends. "If I was your girlfriend,/Would you remember/To tell me all of the things/You forgot when I was your man?" He wants an emotional connection to his lover. A connection that a "real man" could never have, but Prince is willing to embrace femininity and express his feelings to achieve the level of affection he thinks women share with their friends.
David Bowie and Prince broke stereotypes clearing the way for future generations of men to question what being a "man" really means. By transcending gender, these artists gave us all permission to be who we really are. They led the way for the gender non-binary movements of today. So when a little boy wants to be Elsa for Halloween or a little girl wants a toolbox (that isn't pink) it isn't so strange. That is the real legacy left behind by Prince and David Bowie.