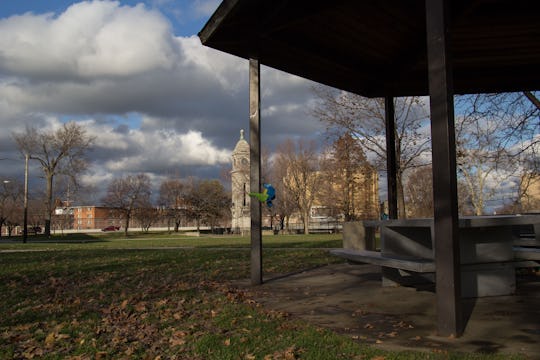 This One Tweet About Tamir Rice Perfectly Captures What Was Wrong With The Grand Jury Decision
It's a difficult day in Cleveland. The New York Times reports that no charges will be filed in Tamir Rice's death. Officer Timothy Loehmann shot 12-year-old Rice after responding to a call about an individual with a gun outside of a recreation center in Nov. 2014. In response to the decision, many activists, parents, and other concerned citizens took to social media to express their frustration with the decision, but one tweet captured what the Tamir Rice decision cost everyone, not just Rice's family and community.
According to CNN, 911 received a report of "a guy with a pistol" outside of the center on Nov. 22, 2014. When Officers Loehmann and Garmback were dispatched, no one told them what the caller went on to say: that the the "guy" could be a child, and the gun could be fake. It appeared that Rice tried to remove an object from his waistband; believing it to be a gun, Loehmann shot him. The initially-released surveillance video wasn't detailed enough to clearly show what happened, but The New York Times reports that Cuyahoga County Prosecutor Timothy J. McGinty used enhanced footage to determine that Rice's movement was "indisputable." The whole incident took place within seconds, which is a major reason Officer Loehmann isn't facing charges: McGinty said that when "a split second decision" is made, legal review often leans in favor of the officer. Three use-of-force analysts reviewed the case separately and all came to the same conclusion: Loehmann was justified in his action. According to McGinty, there is no evidence that Officer Loehmann or his partner that day, Frank Garmback, broke the law.
The outcome of that legal evaluation is difficult to accept. Rice was a 12-year-old on the playground. He didn't have a real gun, only a pellet gun. And according to The New York Times, McGinty acknowledged that Rice probably didn't intend to use the gun; most likely, he tried to remove it from his waistband to show officers that it wasn't real. McGinty described the incident as "a perfect storm of human error," but one Twitter user perfectly summarized why the lack of legal action is problematic:
It is entirely possible that, if tried, Officer Loehmann would be found not guilty in the shooting death of Tamir Rice, but it does seem likely that there may have been enough evidence to press charges. According to CNN, a Cleveland judge found probably cause for five charges (including murder) in June. McGinty argued that charges "could not be sustained," claiming that there is nothing to suggest Officer Loehmann actually broke the law. But McGinty also said that a similar shooting could "never happen again"; and if that's the goal, then much more needs to be done than an evaluation that culminates in no legal action.
Even if Officer Loehmann worked with the information he had and acted based on his training, that doesn't mean he made the best possible decision. If it's true that Loehmann acted within reason, the evidence should hold up in court. But by not pressing charges, the county prevents a meaningful conversation and also fails to incentivize officers and police departments to train to avoid tragic mistakes. Indicting Loehmann and Garmback would demonstrate that fatal decisions, however well-intended, are not above the law. It would also mean forcing us as a society to contemplate important questions: When is a police-involved shooting justified? Considering all of the evidence, could anything have been done differently? Summarizing the officer's decisions as "human error" is fundamentally incompatible with an action-oriented approach to preventing police brutality; it takes away power to create lasting change by saying, effectively, "accidents happen."
Had Loehmann known that he could have been looking at a preteen with a pellet gun, he may have taken a different approach to handling the incident. He wasn't operating with full information, and that wasn't fair. But his split-second decision based on that inadequate information meant the end of an innocent life. When that happens, it's time to talk.
Though there won't be an indictment, it's still possible for the country to act as though there is one. Black Lives Matter continually demonstrates that when we evaluate the evidence collectively, as a community and as a country, we identify opportunities for increased accountability in the evolution of police practices. CNN found that Black Lives Matter has a formal presence "in 31 cities," decentralizing leadership in order to keep the organization strong and present. Campaign Zero focuses on ending police violence "by limiting police interventions, improving community interactions, and ensuring accountability." The campaign's website includes policy agendas for federal, state, and local government and breaks down presidential candidates' positions on the ten pillars of their activism (including demilitarizing the police, requiring body cameras, and ending for-profit policing). This approach demonstrates the importance of responding to violence with thoughtful solutions and strategies for implementation.
If McGinty is serious about ensuring that no child is shot by an officer in the future, then we need to understand why it happened this time.
Images: Jordan Gonzalez/AFP/Getty Images News