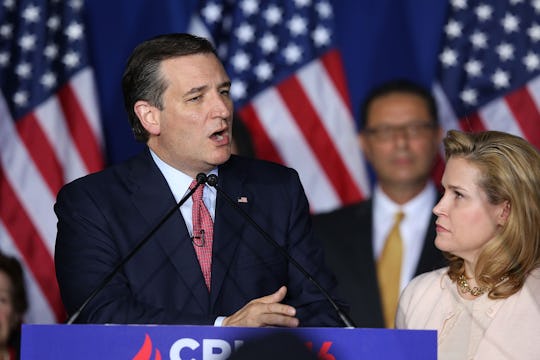 Joe Raedle/Getty Images News/Getty Images
This One Tweet About Ted Cruz Dropping Out Was The Perfect Response To His Entire Campaign
And another one bites the dust: After a 13-month-long campaign, Texas Sen. Ted Cruz is officially out of the GOP race to the White House as of Tuesday night, following an abysmal defeat in the Indiana primary. During his campaign suspension speech on Tuesday night, Cruz said he "would continue on as long as there was a viable path to victory." Moments later, he conceded that "that path has been foreclosed" to shouts of genuine dismay from gathered supporters. As soon as Cruz said he was out, Twitter had plenty of commentary with their own blend of shock, dismay, and even derision. But of all of them, this one tweet about Ted Cruz dropping out of the GOP race pretty much slays it: "Shouldn't #TedCruz have been forced to carry his unviable campaign to term?"
You can credit that killer tweet to the ever comedically astute Samantha Bee, former correspondent on Comedy Central's The Daily Show and now host of her own late-night talk show, Full Frontal with Samantha Bee on TBS. Her tweet has racked up nearly 28,000 retweets since she posted it just after Cruz's campaign suspension speech Tuesday night. While Bee's tweet might seem like just a clever poke at Cruz's conservative values, her tweet is frighteningly accurate when it comes to Cruz's actual legislative record.
Cruz isn't exactly known for his "middle of the road" stance on... anything, really — and the issue of a woman's right to choose is no different. Cruz received endorsements from anti-choice activists and groups throughout his short-lived presidential campaign. Cruz himself even called the 42nd anniversary of Roe v. Wade a "shadow in our nation's history" in a press release on his Senate website last year.
In the wake of Cruz's slow and painful campaign demise, the public is left with the social media ashes of that sad campaign — and more evidence to back up his anti-choice beliefs. Take this campaign video on defending the right to life, posted on Feb. 16:
In it, Cruz not only reaffirms those anti-choice beliefs, but doubles down on them, promising to do "everything within my power to end the scourge of abortion once and for all" if elected president. More alarming still is that fact that Cruz invoked the Center for Medical Progress and their videos that so "powerfully evidenced" Planned Parenthood's "criminal" conduct — despite the fact that two weeks prior to this video, two members of the Center for Medical Progress were indicted on felony governmental record tampering charges from the creation and distribution of those same doctored videos.
Behold Ted Cruz: Bastion of women's rights, everyone.
And thank you, Samantha Bee, for keepin' it real.
Thankfully, Ted Cruz becoming president is one reality that won't be happening this November. As Dawn Laguens, Executive Vice President of Planned Parenthood Action Fund, noted in a press release Tuesday night, "Attacking the care that Planned Parenthood health centers provide will never win elections. Ted Cruz learned that lesson tonight, and Donald Trump will learn the very same lesson in November."