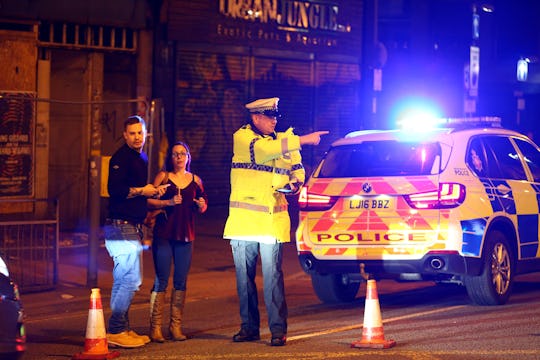 Dave Thompson/Getty Images News/Getty Images
The One Tweet Everyone Needs To Read About The Manchester Concert Explosion
Late Monday evening, reports emerged from Manchester Arena in England of what is now being treated as a terrorist attack during an Ariana Grande concert. A reported 19 people have lost their lives, an additional 50 people have been reported injured, and a great number of children have reported to have been separated from their parents. While the names of the deceased and injured have yet to be released, many attending the concert were young women. This one tweet from the Manchester concert explosion highlights not only that horrible, devastating fact, but the lifetime of violence young women are forced to endure.
UPDATE: BBC reported at 11:40 a.m. local time Tuesday that 22 people have been confirmed dead and 59 injured in the Manchester Arena explosion.
According to CNN, the "crowd was made up of mainly younger people who had come to see Grande in her first of three scheduled concerts in the U.K., on her European and Latin American tour." In fact, according to a BuzzFeed writer who attended a Grande concert in 2015, the average age of an attendee was 16 years old. While any loss of life is harrowing, to know that the concert was specifically targeted as a venue for young women to gather and enjoy music, carefree and with little-to-no fear, is particularly sinister in nature. While some would be quick to ask themselves, and others, what would compel an individual to specifically target young women, this one Twitter user shows that, well, targeting young women is par for the course in a world that doesn't value women at all:
Perhaps it would be easy to point to the current American political climate as hard evidence that, in general, our world doesn't particularly care about women. Whether it's the president of the United States actively and unapologetically attacking women's reproductive rights via the expansion of the Global Gag Rule or defunding Planned Parenthood, to current legislators asking why they need to pay for maternal and infant care, to the long and devastating history of violence against women (in the United States and around the world), it's difficult to point to any one reason why targeted violence at young women is, while heartbreaking, not surprising. Then, of course, there are the jokes that have followed the reports of the bombing, like the Tweets sent out by freelance writer David Leavitt:
While Leavitt later apologized via Twitter, claiming he didn't "realize the magnitude of the tragedy" and sending his "condolences" to the families, the damage was done. Sadly put, violence against women has always been a lingering punchline in a patriarchal society that values women's looks over their worth, their ability to reproduce over their choice as to whether or not they even want to reproduce, and their sexual appeal over their sexual agency. Just recently, for heartbreaking example, a bar in Washington D.C. started selling (and later pulled) a drink called the "Pill Cosby," because drugging and raping women is "funny."
In a time when the news of a massive loss of life spreads quickly, death tolls are shared with reckless abandon, and people are quick to share pictures and videos without thinking about the people in them, it's important to remember this one, undeniable, very real truth: these are people. Not a number in a report. Not a build up to a joke. These are young women, who simply wanted to spend a Monday evening listening to a famous pop star sing their favorite songs. These are young women who, sadly, will continue to carry the burden of unnecessary and unfathomable violence.