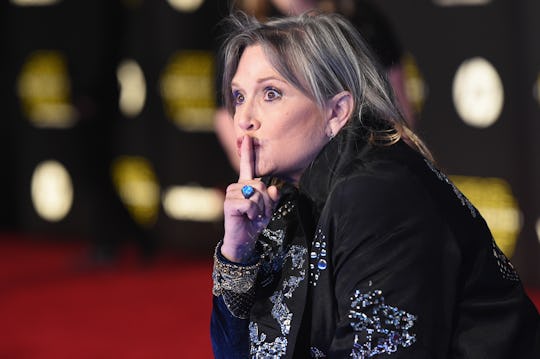 This One Tweet From Carrie Fisher Proves We Talk About Women in Hollywood All Wrong
On Tuesday, the always-honest Carrie Fisher tweeted about body shaming, dropping a truth bomb about how we talk about women in Hollywood. She wrote, "Please stop debating about whether or not I aged well. Unfortunately it hurts all 3 of my feelings. My BODY hasn't aged as well as I have. Blow us." She's spot on — although many of her well-intentioned fans seemed to miss the point entirely.
Fisher's tweet illicited a slew of comments that defended her (and rightfully so) — but, unfortunately, many of them continued to focus solely on her looks, calling Fisher "beautiful" and "gorgeous." While yes, Fisher is all of the above, the main problem seems to be that people focus on Fisher's — or any other Hollywood actress' — looks, rather than her wit, intelligence, or kindness. Fisher followed up her first tweet with a second to clarify: "My body is my brain bag." In other words, we need to stop focusing solely on women's physical attributes.
As one fan — who Fisher retweeted — put it: "Men don't age better than women, they're just allowed to age." Which you can see in many movies: as leading men in films age, their love interests remain young as ever. Vulture compared male stars to their love interests' ages as they grew older, and found that female actresses above 40 were rarely cast alongside the aging leading men. Even when this dichotomy created couples with age gaps of 20 years.
With this sexist ageism in Hollywood, what messages are we sending to the female and male kids that grow up with these movies? Men are given unrealistic expectations of the women they will grow up to date, even in their sixties, and women reduce their traits to just that: do I look young enough? Do I look beautiful enough?
Fisher isn't the only Hollywood lady who has had it up to her eyeballs with the sexist way Hollywood treats women. At The Wrap's Power Women Breakfast, Helen Mirren attacked Hollywood's ageist mentality, saying it's much more interesting to be powerful than to be beautiful. "It's f*cking outrageous," she said. "We all watched James Bond as he got more and more geriatric, and his girlfriends got younger and younger. It's so annoying."
Game of Thrones badass Maisie Williams only turned 18 this year, but is already fed up with the way women's roles are based solely on their looks. She told the London Evening Standard in an interview:
There are a lot of roles that come in that are "the girlfriend" or "the hot piece" in a movie or TV series. That's something I've seen first-hand and read all the time. It will say "Derek: intelligent, good with kids, funny, really good at this" and then it will say "Sandra: hot in a sort of cute way" — and that's all you get. That's the way your character is described, so going into an audition you are channelling "hot," which isn't like a person, that's not who a person is. That's what I see and that's what needs to change. I've been lucky enough to play a very great female character from a young age, who is a fantastic role model for girls.
We need to start looking at our female film characters — and Hollywood's leading ladies — as more than someone who has aged well or not, or is beautiful or not. Unless we do, that solely physical lens is one that we're going to propagate down to the next generation, and the next. So if, after watching Star Wars, people ask if Carrie Fisher has aged well, debate her acting, instead, her portrayal of Princess Leia. Because that's what she brings to the movies — not whether or not she is still physically attractive to an arbitrary someone.
Image: Jason Merritt/Getty Images