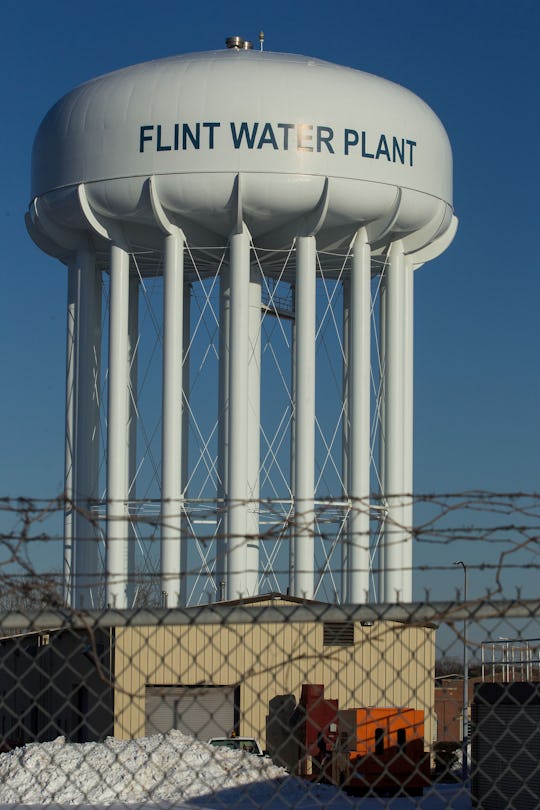 GEOFF ROBINS/AFP/Getty Images
This One Tweet Should Remind You That Flint's Water Crisis Still Isn't Over
In the ceaseless ebb and flow of the news cycle, the plight of the citizens of Flint, Michigan has been largely forgotten. Now and again, though, something happens to remind everyone about the disaster in Flint, where in 2014 city officials decided to switch the city's water supply from Lake Huron water to the polluted water of the Flint River. This weekend, Birmingham CBS affiliate WIAT reported that an advisor to Michigan's governor claimed that "things [were] getting back to normal" in the city. But folks on social media weren't having it, including musician Jon Connor, whose Tweet should remind us that Flint's water crisis isn't over.
Connor, who refers to himself as "the people's rapper," sent out a matter-of-fact Tweet with a simple message: "Flint might not be in the news anymore but my mom is still using bottled water to shower," he wrote. Connor's feeling that the reality of Flint doesn't match the media's portrayal comes on the heels of an interview published this weekend with Harvey Hollins, the Flint official who was appointed by Michigan Gov. Rick Snyder to coordinate the city and state's management of the water crisis.
"Things are getting back to normal," Hollins told a local WLNS reporter. "What needs to occur is developing and building trust. That's going to be a long task."
The notion that things are returning to "normal" in Flint is a highly debatable take on the water crisis, which is improving but certainly not resolved. According to an April report at NPR, the city has initiated a program to 're-scale' the corroded city pipes, thus preventing lead from leaching into the water. Given that a September 2015 Virginia Tech report found that 40 percent of Flint homes had elevated lead levels, reduced lead is certainly a primary concern for Flint residents.
Flint residents are so skeptical of this de-leading effort that when Gov. Snyder announced in April that it was okay to drink filtered tap water, the citizens of Flint demanded that he drink it, too. In response, Snyder told The Detroit Free Press in mid-April that he would "continue drinking Flint water at work and at home for at least 30 days."
For the people of Flint, though, this is a case of too little, too late. It was Snyder himself who confirmed in January that an outbreak of Legionnaire's disease struck Flint between June 2014 and November 2015, according to CNN. The outbreak of the disease, which is associated with contaminated water supplies, took 10 lives.
According to The Free Press, state and local officials still haven't told Flint citizens when they can expect tap water that's safe to drink without using a filter. And since many citizens don't trust that the filters will prevent lead poisoning, bottled water is still a daily necessity for Flint residents. What's more, pregnant women and children under 6 are still being told that they shouldn't drink the water, whether or not it's filtered.
A detailed segment about the Flint water crisis on MSNBC's The Rachel Maddow Show appeared just last month, confirming what everyone feared: The water crisis is not over. Maddow, who has been covering the crisis in detail from the beginning, told viewers,
It remains almost unbelievable, almost unreal, that a good-sized American city doesn't have drinking water. It's additionally unfathomable that they still don't today. The Snyder administration poisoned the town and wrecked the water pipes in the town more than two years ago. But in Flint, that just means that they're in year three of this disaster.
Maddow elaborated that on June 23, the Environmental Protection Agency (EPA) announced that if proper water filters are attached to Flint faucets, the water will be safe, even for children and pregnant women. Maddow pointed out that getting filters on everyone's taps doesn't mean that the problem is solved; rather, she said, it's a "house-to-house, faucet-by-faucet undertaking."
What's more, despite the EPA's all-clear for pregnant women and small children, the local Genesee County Medical Society disagreed with the EPA, putting out a press release days after the EPA's announcement, stating that pregnant women and children in Flint should "continue drinking bottled water until further lead testing is done on the city's drinking water system."
As Flint officials continue to seek local, state, and federal funding to replace the city's water pipes, we can only hope that the crisis will finally be resolved, sooner rather than later.