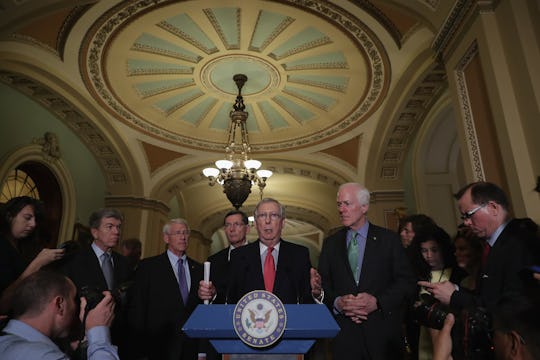 Chip Somodevilla/Getty Images News/Getty Images
This One Zika Poll Shows Exactly Why Congress Needs To Act Fast
Oh, Congress, whatever will Americans do with them? After bickering about funding for months, this one Zika poll shows exactly why Congress needs to act fast when it comes to Zika funding. The hold up over the Zika funding bill that all comes down to the fact that Republicans have insisted that it include Hyde amendment language, which means that the federal funds cannot go towards abortion.
Senate Democrats are insisting that that language be removed from the bill since Zika virus really affects pregnant women, who might want to assert their right to choose since the virus can cause neurological disorders in infants like microcephaly or lead to miscarriage. Any funding, the Democrats insist, needs to account for family planning resources.
A new poll conducted by NARAL Pro Choice America found that 85 percent of American voters support the Democrats' position. But not just that. The poll also found that 64 percent of polled voters would be less likely to support a representative if they don't support abortion in the case of a Zika infection and another 59 percent would be less likely to support a candidate if they blocked funding for women's health center throughout the ongoing Zika crisis.
The poll shows that when it comes to health, it's not about party lines. It's about taking care of an issue that affects families, and down the road, the health of newborns. Congress should take note and get a move on voting.
Before you start to think that NARAL skewed the poll, think again. The 1,000 voters polled all come from important swing states like Florida, Colorado, Iowa, Missouri, Nevada, North Carolina, Pennsylvania, Ohio, and Virginia. They were also a diverse group, according to Anzalone Liszt Grove Research, who helped conduct the poll. It shouldn't be surprising that 93 percent of Democrats support Zika funding going towards women's health, but there were also 79 percent of Republicans and 84 percent of independents. The consensus is in.
The Zika funding bill has been under dispute for months. Originally President Obama requested $1.9 billion for prevention, women's health, and research into a vaccine. The current bill is just $1.1 billion, pulls from emergency Ebola funds that haven't been used yet, and still has the Hyde language in it. It looks like it may be deadlocked. But it's getting to be an emergency. Anthony Fauci, director of the National Institute of Allergy and Infectious Disease told Politico that if they don't get funding by the end of the fiscal year, all the research they've done into a vaccine will have to stop.
The Centers for Disease Control is also shuffling money around to accommodate for the lack of funding so far. Meanwhile, there are a total of 2,964 cases of Zika in the continental United States, with just 43 of those contracted locally. In U.S. territories, however, there are 15,869 total cases of Zika with just 60 of them travel related. Although Democrats are being blamed for holding the bill up in the Senate, any Republican who look at the results of the NARAL poll might have to think twice about compromising on the issues. Something has to give when it comes to Zika funding. Hopefully soon.