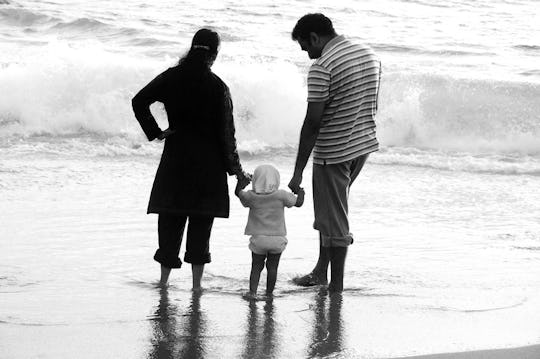 This Parent Sex Facebook Post Tells It Like It Is & Teaches Moms The Importance Of Self-Care
There are two misconceptions about parenthood: That partners either have no sex at all or have the exact same sex life they had before. Constance Hall's parent sex Facebook post shows that neither one of those outcomes is common. In her home, intimacy is a delightful challenge.
The joy of welcoming kids into the world is often accompanied by unexpected hurdles. Traveling, cleaning, and even going to the grocery store becomes a bit more complicated. But more than anything, it's the relationship between partners that evolves. There's no right way to keep romance alive once days are packed with muddy sneakers, runny noses, and carpooling calendars. The key seems to be in making time for one another. At least, that's the approach Candace Hall promotes. Hall blogs at thenotsosecretlifeofus, sharing her thoughts on everything from marriage to motherhood. Now, she's getting international attention for her Facebook post offering a brutally honest look at what it means to have a sex life after having kids. With over 120,000 likes and 33,000 shares at the time of writing this article, the post is taking off — and it's resonating with parents everywhere.
Hall pretty much covers every facet of the experience, from the first flirtation ("seduction consists of one finger pointing towards the bedroom and the other hand on his d***") to the last moments of ecstasy ("listening to Iggle Piggle in the back ground [sic], knowing your days are numbered when you hear the add [sic] break"). She also goes over all of the necessary precautions to ensure the kids don't get a glimpse of "'yoga' in bed", from keeping a foot on the door, to using a blanket to cover everything.
In Hall's words, "for a loud bunch of kids, yours can be pretty quiet when they're sneaking up on people." Hall also tackles the body image issues that so easily occur after pregnancy. She embraces her role as a "vixen", and her husband does, too: "Well, mine was pretty impressed, even if I [would] just lie there, saggy boobs, baby belly pouch, hairy minge and all, he still thinks I'm amazing."
Plenty of parents took to the comments section to share their own sex-related trials. Of the struggle of having a teenager in the house, Cindy Moreno wrote, "Try having sex as quiet as you can because you know that she is next door & wide awake texting away." Dawn Delaney-Gray tried to get out of the house altogether, but the result wasn't awesome:
Try explaining to the police who have caught you and your hubby out "parking" to achieve some sort of pent up relief. Officer we have 3 teenaged children at home, i swear we are husband and wife.
By opening up a Facebook venting session, Hall provided an outlet for parents to share their frustrations and discover that the idea of a perfect sex life after kids is a myth. In the words of commenter Brookie Hopkins, "Constance Hall you rock for telling it how it is (for all us parents) and even more for slapping your pic at the top! go girl!"
In an article for Psychology Today, Isadora Alman MFT wrote about the importance of self-care in order for parents to better take care of others. In part, that means making time for intimacy. And while it may seem improbable, it is possible. As Lisa Tucker McElroy wrote for The New York Times' Motherlode blog, sex after having kids is different, but it may even be better:
True, luxurious two-hour sessions have turned into intense five-minute encounters; we've had to forget the fantasies of hanging from chandeliers; the kitchen table is too covered with Play-Doh to make a good assignation spot. But, despite the less-than-perfect forms, the difficulties in appropriating moments for adult time, even despite the ever-present toddlers, I can honestly say that my husband and I are even more intimate than we were in those glory days pre-kids.
Moms can be sure that no matter how stretched they are, it is still possible to have good sex. It may just require a foot on the door and a commitment to brevity.
Image: Kamaljith/Flickr; Constance Hall/Facebook (2)