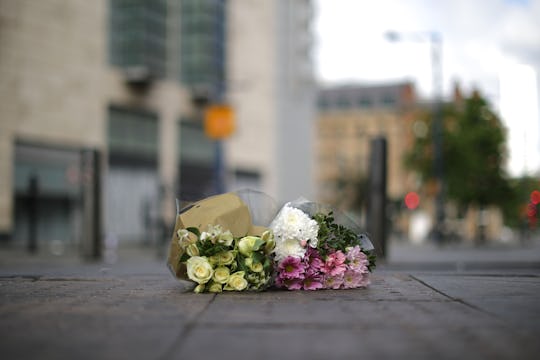 Christopher Furlong/Getty Images News/Getty Images
This Photo From The Manchester Attack Is Heartbreaking
A day after a bombing at an Ariana Grande concert in Manchester, England Monday night, photos of the harrowing and deadly terrorist attack have begun to emerge. On Tuesday, terrorist group ISIS claimed responsibility for the attack carried out by a suicide bomber that has killed at least 22 people and injured another 59 more, some seriously. Of all the images coming out of the aftermath, one photo from the Manchester attack just might be among the most heartbreaking. As a parent, it's especially moving in the "hold your kids a little bit tighter" kind of way.
Posted by a Twitter user named AshuTosh Yadav, the image he shared captures a raw moment of a female British police officer hugging a young girl at the scene of the attack. It appears as though the officer has given the little girl her jacket, as the two stand behind a police tape line, their figures illuminated by the faint blue of emergency vehicle lights. "Sometimes a picture says a thousand words," Yadav captioned his photo before offering his thoughts and prayers to the victims and their families.
At least 12 of the 22 victims killed in the Manchester attack were children, as British authorities began releasing victims' names and ages on Tuesday. The youngest victim so far has been identified as 8-year-old Saffie Rose Roussos.
What makes this photograph so powerful is the flood of emotions it shows and evokes within the viewer. While the names and relationship of the photo's subjects are not known, it's easy to imagine that this female police officer may have a child of her own, or a niece or nephew. Even so, offering a jacket to a child in crisis feels instinctive, whether you're a parent or not. Though the photo can't tell us what the officer might be saying to that little girl, I imagine it's something along the lines of, "You're safe now, it'll be OK" — because that's what you tell children when their world has gone to pieces.
This picture is the visual expression of that famous Fred Rogers quote:
When I was a boy and I would see scary things in the news, my mother would say to me, 'Look for the helpers. You will always find people who are helping. To this day, especially in times of 'disaster,' I remember my mother's words and I am always comforted by realizing that there are still so many helpers – so many caring people in this world.
The Children's Commissioner for England, Anne Longfield, issued a statement on Tuesday for parents and caregivers on how to talk to kids about the Manchester attack — especially given the fact that children were deliberate targets in this attack. Longfield wrote:
Today, as adults, we must find a way to tell our children what has happened. To find the courage to help them understand and give them the reassurance and love they need to deal with such terrible news.
Somewhere, that little girl's parents are frantically searching to know if she's OK, or if her name was one of the 22. Parents should not have to bury their children. It's an oft-repeated saying, but there's a painful truth to it. In the case of the Manchester attack, it appears as though the perpetrators deliberately targeted children, given the young demographic to which Ariana Grande appeals.
While it's easy to gloss over terrorist attacks with the frequency that they occur in a post Sept. 11 world, there's something about targeting kids that has given the world pause: Their innocence.