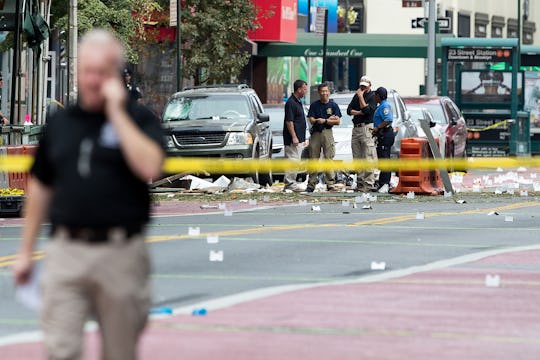 Drew Angerer/Getty Images News/Getty Images
This Photo Of Ahmad Rahami After Being Captured Shows He's Conscious Following Shootout
Following a gunfight in the street in Linden, New Jersey, Ahmad Khan Rahami, the man police wanted in connection with the New York and New Jersey bombings over the weekend, has been captured. This photo of Ahmad Khan Rahami after being taken into custody shows, although police report he was shot multiple times in a gunfight, he was still conscious and able to talk to police about other potential connected threats. Now it's just a question of whether he'll be willing to cooperate with authorities. Romper could not reach Rahami for comment.
According to the New York Times, an anonymous law enforcement official said there's evidence connecting Rahami not just to the Chelsea explosion, which injured 29 people on Saturday night, but also the Saturday afternoon Jersey Shore explosion in Seaside Park. The Times also reported that police suspect Rahami was linked to the backpack full of pipe bombs discovered in Elizabeth, New Jersey, on Sunday evening.
According to CBS New York, Linden Mayor Derek Armstead said a bar owner reported someone asleep in a doorway, who police later realized was Rahami.
"The suspect pulled out a gun and fired at the officer and striking him in the abdomen," Linden Police Capt. James Sarnicki told New York's CBS2. "The gentlemen got up and started walking down the street in a westerly direction. I'm told that he was randomly discharging his handgun and one of the officers was able to get close enough to him and return fire."
Here's the incredible images of Rahami after the shootout, being taken away by ambulance on a stretcher.
And here's a link to footage of the incident reportedly recorded by a bystander. CBS2 reported the officer who was shot by Rahami was wearing a protective vest and another officer might have sustained an injury to his face. Rahami was shot several times and is alert.
But while officials might be breathing a sigh of relief that Rahami is in custody, New York Gov. Andrew Cuomo was on Fox & Friends Monday and said he thinks the attacks could have been a coordinated effort, according to Fox News.
"Today I believe we're going to find out that (the bombing) was influenced by foreign sources," Cuomo said.
Now that Rahami is in custody, law enforcement are likely to get more answers about the motives behind the bombings. Fox News also reporterd that Reuters spoke with U.S. officials that the bombing plot "likely involved several individuals." Rahami is a 28-year-old naturalized citizen from Afghanistan, according to Fox News. Rahami has been taken to University Hospital in Newark, New Jersey.