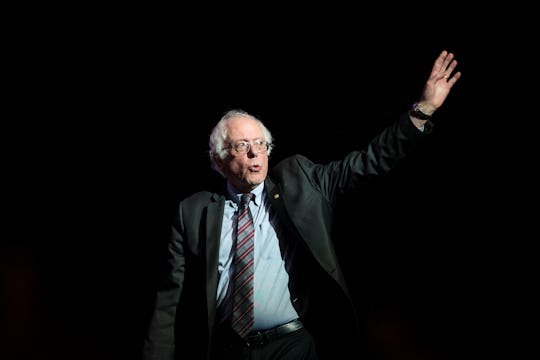 Scott Eisen/Getty Images News/Getty Images
This Photo Of Bernie Sanders Behind A Pint Of Ice Cream Is Great
After a long week of work, there's nothing better than relaxing with a pint of Ben & Jerry's ice cream (my favorite flavor is Phish Food). But maybe they need to rebrand it from Ben & Jerry's to Bernie & Jerry's. Vermont Sen. Bernie Sanders loves the Vermont made, classic ice cream. And on Friday evening, just as everyone was heading home to kick back with a pint of their own, a photo of Bernie Sanders and a pint of ice cream went viral on Twitter. Seriously, this photo of Bernie Sanders behind a pint of ice cream will make you laugh — and also crave ice cream.
As with most things that go viral, some background information is necessary to get the full picture. Around 4 p.m. on Friday, Sanders tweeted out a photo of himself, standing behind a podium shaped like a pint of Ben & Jerry's ice cream at the Ben & Jerry's factory in St. Albans, Vermont. In the photo, Sanders looks passionate, using his hands to talk as he delivers a speech to an unseen crowd. His caption, out of context, is a little too serious for someone standing behind a pint of ice cream. "When we stand up and fight back we can change the country in very positive ways," Sanders wrote. Change the country through...eating ice cream?
Say what you will, but Sanders gives a whole new meaning to "Vermont's finest."
According to The Hill, Sanders was at the factory to deliver a speech about energy policy. But once Twitter got a hold of the photo, the attention shifted to the glory of the picture, rather than his purpose for standing behind the pint-shaped podium. In all honesty, the memes and tweets created from Bernie Sanders standing behind a pint of ice cream might just make your week.
But if you're surprised to see Bernie Sanders behind a pint of Ben & Jerry's then you must not know the senator well enough. During the 2016 Presidential Primary Election, Ben & Jerry's co-founders, Ben Cohen and Jerry Greenfield publicly endorsed the senator for president. And shortly after endorsing Sanders for president, Ben created a very limited batch of a custom made ice cream flavor for Sanders called "Bernie's Yearning" — which was plain mint ice cream with a solid layer of chocolate on top. Therefore Sanders' appearance atop a pint of Ben & Jerry's isn't too out of the ordinary.
There is no better way to cool down after "feelin' the Bern" than with a pint of ice cream.