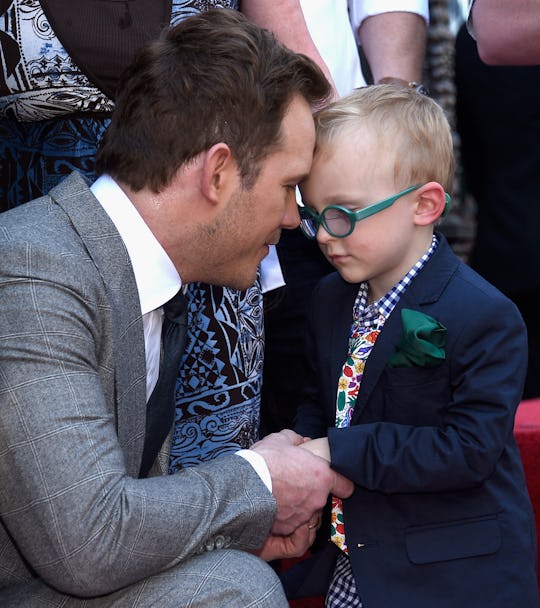 Kevork Djansezian/Getty Images Entertainment/Getty Images
Chris Pratt Teaching His Son To Tie Is So Adorable
Nothing is cuter than seeing a celebrity dad care for their son — especially when that celebrity dad is the actor, Chris Pratt. Pratt and wife, actress Anna Faris are parents to 4-year-old son Jack and they seem like they do a great job raising him. This could not be more clear in their photos, tweets and quotes about Jack. But in particular, this photo of Chris Pratt teaching his son to tie a tie shows that they're doing parenting right — and it's also, quite possibly, the cutest thing you'll see all day.
On the morning of Pratt getting a star on the Hollywood Walk Of Fame — a huge deal in it's own right — Faris started live-tweeting the entire event, as soon as Pratt woke up. Jack also had to get ready for his dad's big day, and while it takes a little kid a lot less time to get fancy, Jack had to look just as sharp as his mom and dad. Enter Chris Pratt teaching Jack how to tie a tie, which was caught on camera thanks to Faris' live tweets.
In the photo, Pratt can be seen adjusting the colorful tie around Jack's neck as he looks on. This moment, captured in just one photo, is undeniably cute.
Just think about how many ties Jack will wear or tie in his lifetime (especially when he hits his first "wedding season") — and how he will have this photo to look back on when he gets older to know the exact moment his father taught him how to tie a tie. Even if Jack becomes a bowtie kind of person when he gets older, this photo will, for sure, still stand the test of time.
Jack and his tie made a prominent appearance in photos at Pratt's Walk of Fame ceremony, where he looked so cute alongside his parents. All of the photos of the Faris-Pratt family at Pratt's ceremony are super precious and so stinkin' sweet. Their smiles could not be any wider and the family looks just so happy to be together.
During his speech at his ceremony, according to People, Pratt thanked his wife and his son, who looked on as he accepted the honor. "I want to thank my wife Anna, I love you," Pratt said. "You gave me the greatest star in the galaxy in my little boy, I love him and I love you."
Pratt continued:
We have bonded to make this molecule that is more important to me than air or water, and without it none of this means anything to me. With every challenge, with every day, week, month, decade, we become more bonded. You make me laugh like nobody else. You're very caring, and thank you for your trust and your sacrifice — and for your dedication and your heart.
Pratt's words about his wife — along with their family photos from his ceremony — are so incredibly sweet. It's the candid moments, like Pratt teaching Jack how to tie a tie, that he will surely cherish forever.