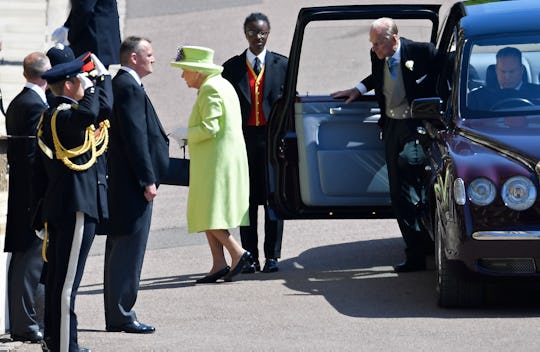 WPA Pool/Getty Images Entertainment/Getty Images
This Photo Of Meghan Markle's Dog Riding In A Car With Queen Elizabeth Is The *Best*
Everyone who's anyone was invited to Prince Harry and Meghan Markle's wedding this weekend — including one special guest that wasn't allowed into the chapel, but did manage to snag a ride with the queen. In case you missed it, you definitely need to see this photo of Meghan Markle's dog riding in a car with Queen Elizabeth on their way to Windsor Castle on Friday, because it is too cute for words.
Queen Elizabeth is known for being a dog person. The 92-year-old was often spotted out with one or more of her corgis, so it was very sad back in April when it was reported that Willow, the last of her line of corgis, had died. According to People, she was "hit hard" by the loss, which anyone who has ever lost a pet can imagine. Royal babies and weddings are great, but nothing can replace your dog friends.
So it was heartening to see that she found some companionship in Markle's beagle, Guy. Since last year, Markle has been living with Prince Harry in Nottingham Cottage on the grounds of Kensington Palace and brought her pup with her. Given her affinity for furry friends, it's likely that Queen Elizabeth was more than happy to scoop him up on the way to the wedding. What's most hilarious, as Harper's Bazaar pointed out, is that there hasn't even been a picture with Markle and the Queen alone yet, but here's Guy, just getting all cozy with the monarch.
Given all of the drama surrounding Markle's family coming to the wedding, many British tabloids were speculating that there was tension between Markle and the Queen. But letting little Guy stick his head out the window of her town car on her way to the wedding shows that the family is sticking together no matter what. Everyone knows that two dog people always get along, right?
Sadly, Guy was one of two rescue puppies that Markle used to have. She said in her BBC interview with Prince Harry just after her engagement that she could only bring one with her at the time. She also had Bogart, a labrador-shepard mix, but he got left behind. Markle explained:
Well, I have two dogs that I've had for quite a long time, both my rescue pups. And one is now staying with very close friends and my other little guy is — yes he's in the U.K., he's been here for a while. I think he's doing just fine.
Yeah, I can't imagine that a dog would have trouble adjusting to all the space, gardens to chase squirrels in, and luxury rides with the Queen of England now and again. It's really not a bad life at all. He had to go through a lot to get to the United Kingdom, though. According to Us Weekly, little Guy had to be "microchipped, given a rabies vaccination, plus a blood test 30 days after the rabies vaccination to show it has worked." Then he also had to be treated against tapeworms and "provide paperwork for all of these vaccinations," just to get into the country. So at least we all know he's healthy.
Possibly the cutest thing of all is that Harry might not be the biggest fan of dogs in general. He said during their November interview that his grandmother's corgis immediately loved his then-girlfriend. "I've spent the last 33 years being barked at; this one walks in, absolutely nothing …. just wagging tails and I was just like 'Argh,'" he joked about the dogs "taking" to Meghan "straight away."
Who wouldn't, right? It's good to know that Guy made it to the wedding. Maybe he even got lucky and will get to try some of the leftover apps from the reception.