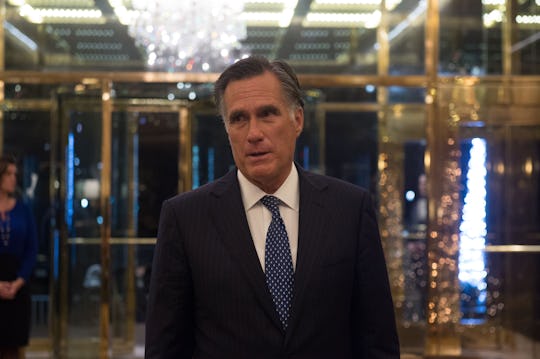 BRYAN R. SMITH/AFP/Getty Images
This Photo Of Mitt Romney's Dinner With Donald Trump Is Spawning The Best Tweets
Former Massachusetts Gov. Mitt Romney was an outspoken critic of President-elect Donald Trump in the lead up to the presidential election, and once even called him a "phony" and a "fraud" on Twitter, according to CNN. Trump himself also had choice words for Romney, who lost to President Barack Obama during the 2012 election, and claimed in a tweet that Romney had "begged for his endorsement" when he was running for president. But on Tuesday, the two men appeared to put their differences aside to meet for dinner in what many have speculated was a discussion about potentially making Romney Trump's Secretary of State. Many Trump supporters are unsurprisingly outraged by the idea, but the one shining light throughout the coverage is that, at the very least, this photo of Mitt Romney's dinner with Donald Trump has led to some seriously entertaining Tweets and memes.
Given that Romney was, up until recently, pretty firmly anti-Trump, the fact that he's now appearing to backtrack on that position meant that, well, it's pretty safe to say that Tuesday's dinner was likely super awkward. And naturally, the world has so many questions: did Romney apologize? Did Trump gloat? Could Romney really be offered a spot in Trump's Cabinet, even though he's almost universally loathed by die-hard Trump supporters? Did they have dessert?! We might have to wait to learn the answers to these questions, but for now, the perfectly cringeworthy photo released of the two men having dinner (alongside third wheel Republican National Committee Chairman Reince Priebus), seems to speak volumes.
The photo, taken at Jean Georges, a Michelin star restaurant inside Trump International Hotel, in New York City, is basically social media meme perfection. Romney looks totally uncomfortable, and like he may have just now realized he has lost pretty much every single shred of personal dignity he may have once had. Trump, on the other hand (with a little help from some bad lighting) appears like he's just about to launch into an in-person version of one of his famous Twitter tirades. Or to perhaps announce to Romney that it is he that is about to be eaten for dinner. You know, one or the other.
Naturally, that led to a slew of amazing tweets captioning the too-good-to-be-true pic:
Others served up some entertaining one-liners:
And then, there was this perfect tweet:
Naturally, Chrissy Teigen's response was completely on point:
Even Fault In Our Stars author John Green couldn't resist taking a shot at Romney's uncomfortable reality:
Romney and Trump's Twitter past is still out there for all to see, which of course makes this all the more awkward. Like the time Romney called Trump's promises "worthless as a degree from Trump University" (zing!):
Or this tweet from Trump, where he said that Romney "choked" against Obama in the 2012 election:
And while many have lashed out on social media today at Romney — often referring to him as disloyal or a traitor, using the hashtag #NeverRomney — others spoke of the irony that their former dislike of Romney as a presidential candidate seems like nothing compared to how they feel now about President-elect Trump:
Romney, for his part, spoke to reporters following the dinner and issued a glowing review of the night, telling them that he felt encouraged by Trump's "message of inclusion and bringing people together," and that he thinks "America's best days are ahead of us," presumably under a Trump presidency. Romney even admitted that, in winning the election Trump "did something I tried to do and was unsuccessful at," which, let's be honest, was likely music to Trump's ears.
So will Romney really end up becoming part of Trump's Cabinet? Or did Trump just want the satisfaction of seeing Romney backpedal so spectacularly? Only time will tell. But in the meantime, at least the photos made for internet gold today.