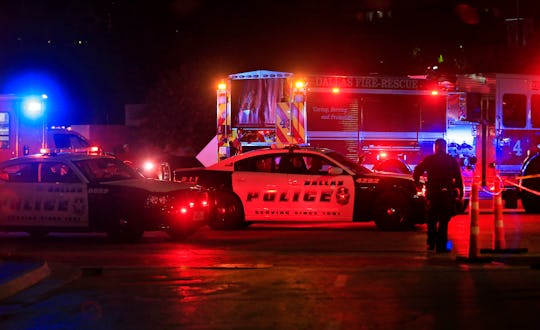 Ron Jenkins/Getty Images News/Getty Images
This Photo Of People Protecting A Baby Stroller In Dallas Reveals A Heartbreaking Unity
Ever since a Black Lives Matter protest in Dallas turned deadly, the news that's emerged from the city has been overwhelmingly negative. What began as a peaceful protest against police use of deadly force against black people ended with five police officers killed and nine people injured after a 25-year-old Army veteran opened fire. Amid the tragic news, however, one image stood out as a sign of hope among the madness: A group of people protected a baby stroller in Dallas when shots rang out, proving people's united hope for the future outweighs any current divisions.
The picture, which has since gone viral, is a screenshot of CNN's coverage of the event and depicts a group of people — of different races and ages — grouped around a stroller, seemingly racing to remove it from harm's way. It's been shared by people on several social media platforms as a sign of solidarity after a week that many have seen as divisive.
Former Boston Metro reporter Nate Homan shared the picture on Facebook, captioning it:
In the middle of the horror, in the wake of nightmare, amid the outrage and the call to arms is this moment of humanity: People, black and white, surrounded a baby stroller in Dallas as the gunfire broke out. This is the better nature of our angels. This is who we are and who we should strive to be.
The protest was meant to be nonviolent, and had been peaceful up until shots rang near 9 p.m., close to the end of the demonstration. The protest organizer, Dominique Alexander of the Next Generation Action Network, told NPR that the non-profit organization "does not condone violence against any human being, and we condemn anyone who wants to commit violence."
People have used the picture of unity around the baby stroller as a way to see some humanity in an unspeakable tragedy, and many responded emotionally on Twitter:
It has undeniably been a rough week for the United States, and issues of police brutality, gun control, and prejudice won't be fixed overnight. However, as the nation works its way through more of these issues, it helps to look at instances where people join together. Before shots broke out, protestors and police posed for pictures together, and races of all kinds showed up to demonstrate.
Throughout hard times, it can help if people focus on those moments, and moments where people band together in a crisis. Looking for the good doesn't erase the bad, but it give us a vision of what a better future could look like.