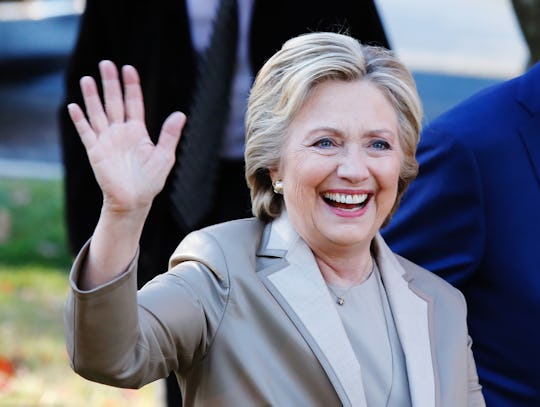 EDUARDO MUNOZ ALVAREZ/AFP/Getty Images
This Photo Of President Obama Hugging Hillary Clinton Will Give You All The Election Feels
You guys, it's been a really long campaign filled with baskets of deplorables, the ugliest of political and personal attacks, and a nation of people divided up and dug in on their own sides. The fight through this campaign has been long and hard and left swaths of scorched earth from Chappaqua to Hollywood. Which is why this photo of President Obama hugging Hillary Clinton is exactly what America needs as a reminder that everything in American politics isn't horrible and everything is going to be just fine.
Just hold me, Barry.
No sitting president in modern history has worked harder to get his chosen successor elected, according to ABC News. Obama, along with First Lady Michelle, has barnstormed the country, making the case for Clinton to be the next president. And at a time in American politics when both candidates for president have historic low likability ratings, according to FiveThirtyEight, having the popular president and his even more beloved wife out stumping for Clinton has proven to be a potent combination in the closing days of the campaign.
On Monday night, Obama gave his final, perhaps one of his most rousing, speeches arguing why he believes Clinton should be elected at a huge rally outside on Independence Mall in Philadelphia, Pennsylvania.
"She will work. She will deliver, she won't just tweet," Obama said in an 18-minute speech introducing Clinton to the crowd, according to Mother Jones. He ended the speech with a pound on the podium that sounded like an unmistakable check mark indicating he knew he had done his part for the Clinton campaign.
After Clinton gave her own remarks, she was joined by former President Bill Clinton, daughter Chelsea and the POTUS. This huge Obama bear hug that must have been just what she needed after a long, tough campaign.
The caption on the photo posted by Hillary Clinton on Instagram says it all, "Stronger together."
I'm not crying, you're crying.
This campaign season really has been hard for many Americans. In fact, according to Politico, a poll of Americans old enough to vote found 43 percent of respondents said Trump's campaign had caused them "emotional distress." From the normalization of bullying behaviors, and women reliving experiences of sexual assault, to just an general amp-ing up of fear and anxiety about what would happen should Trump get elected, Politico found that psychologists across the country are seeing an uptick in patients impacted by the election.
So after Election Day is over, and after all the votes are counted, let's remember to take a cue from our current President Barack Obama and remember to reach out to our friends, offer them a hand, and give them a big old hug.
But until then, as POTUS is fond of saying, "Don't boo! Vote!"