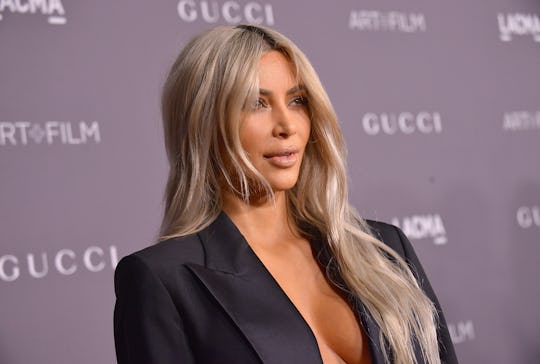 Charley Gallay/Getty Images Entertainment/Getty Images
This Photo Of Saint West Kissing Chicago Will Melt Your Heart
When people hear the name "Kim Kardashian," many different things pop may into their heads. Some might recall the infamous sex tape that catapulted her into the spotlight in the first place. Others may think of the reality TV star and her famous family's drama unfolding on Keeping Up with the Kardashians. Still others' thoughts might go to the sultry photos she shares that highlight her signature bum and curvy silhouette. But Kim K also happens to be a mom of three — and every once in a while she shares some seriously adorable photos of North, Saint, and Chicago that remind everyone of some of the most important people in her life. And this photo of Saint West kissing Chicago will melt your heart.
On Saturday, the KKW Beauty mogul took to Instagram to share a sweet moment between two of her children, E! Online reported. It was a shot of big brother Saint, 2, kissing baby Chicago sweetly on her little nose. "He loves her so much," Kardashian captioned the photo. (Be still, my ovaries!) Saint seems to be adjusting to life with a little sister like a champ, from the looks of it. Of course, we have no idea what goes on behind the scenes. But when something this adorable goes down, who can refrain from sharing?
Little Chicago West made her grand entrance on Jan. 15, People reported. Kim Kardashian and Kanye West's third child was born via gestational carrier, after it was determined that it would be dangerous for Kardashian to carry another baby herself. "Kanye and I are happy to announce the arrival of our healthy, beautiful baby girl," Kardashian wrote on her app, according to the publication. "We are incredibly grateful to our surrogate who made our dreams come true with the greatest gift one could give and to our wonderful doctors and nurses for their special care."
Of course, the realty star's pregnancy-related health concerns with North and Saint aren't exactly a secret. Just days after Chicago was born, the new mom of three opened up about her decision to use a surrogate for her third child. "I have always been really honest about my struggles with pregnancy," Kim K wrote, according to Us Weekly. "Preeclampsia and placenta accreta are high-risk conditions, so when I wanted to have a third baby, doctors said that it wasn't safe for my — or the baby's — health to carry on my own." Kardashian continued:
After exploring many options, Kanye and I decided to use a gestational carrier. Although I have used the term surrogate in the past, a gestational carrier is actually the technical term for a woman who carries a baby that she has no biological relationship to. A traditional surrogate donates her egg, is artificially inseminated with the father's sperm and then carries the baby to term. Since we implanted my fertilized egg in our gestational carrier, our baby is biologically mine and Kanye's.
Fans got their first glimpse of baby C‌hi in Kylie Jenner's 11-minute video of her pregnancy journey that was shared on Feb. 4, TMZ reported.
Since I know you just sat there and watched the whole video all over again (don't lie,) did you catch baby Chicago's debut? If not, here she is!
Since then, there have only been a few other Chi photos shared by Kim Kardashian on Instagram. Like this adorable mother-daughter shot — complete with a bear filter (aww!) — that Kardashian posted on Feb. 26.
And this sweet moment, which was shared on March 17.
I don't know about you, but I can't wait until Khloé Kardashian welcomes her little girl — and for that first photo of Chicago, Stormi, and baby Thompson to be shared. Because I have a feeling that all of the 2018 Kar-Jenner babies in one place would be just too much cuteness to handle.