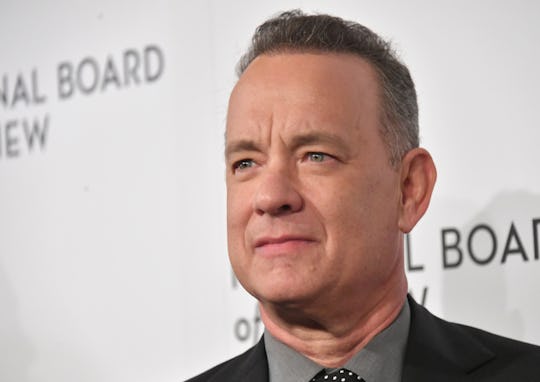 Mike Coppola/Getty Images Entertainment/Getty Images
This Photo Of Tom Hanks As Mister Rogers Is Exactly What The World Needs Right Now
I don't know about you, but the news has really bummed me out lately. But every once in a while, a ray of good news gleams through the depressing headlines and restores my faith in humanity. And honestly, this photo of Tom Hanks as Mister Rogers is exactly what the world needs right now.
On Thursday, Sept. 27, Sony Pictures released the first picture of Tom Hanks as Fred Rogers in its upcoming (and still untitled) film, as USA Today reported. Complete with an all-gray hairstyle and the signature red sweater — worn over a buttoned shirt and tie and with khaki pants, Hanks appears to be sitting on the steps of his trailer while holding a book. Sony Pictures captioned the image with, "Tom Hanks is Mister Rogers, coming to a neighborhood near you October 2019."
And guys, the resemblance is uncanny. Don't believe me? Take a look for yourself!
In addition to Hanks totally nailing the persona of Mr. Rogers, this photo seems to have brightened the day of people everywhere. One Twitter user wrote, "Could we have this today?? Please?? We all need to find the helpers."
Another person tweeted, "First he's Walt and now he's Mr. Rogers and danggit it works for both."
Yet another Twitter user wrote, "I'd like to thank @SonyPictures for releasing this sliver of sunshine for us to bask in."
Another person chimed in with, "Is this real? Because this is what the world needs right now."
Yet another Twitter user wrote, "The casting of a role I didn't know I needed until right now!"
As Entertainment Weekly reported, the upcoming film is based on the friendship of Fred Rogers and journalist Tom Junod. "(It's about) one man who's in a critical point in his life — becoming a new father, having issues with his own father — and meeting Mr. Rogers to write a piece about him, thinking it's going to be a bit of a puff piece, but it ends up changing his entire life," director Marielle Heller told EW in March. With this in mind, the yet untitled film is not a biopic, according to Heller. "It's really not. It's a movie that's largely focused on a reporter and (Mr. Rogers') relationship to his life, and how (the reporter's) whole world changes when coming in contact with Fred Rogers."
Rogers — who died in 2003 — hosted the beloved TV show Mister Rogers' Neighborhood from 1968 to 2001, according to TODAY. It's safe to say Hanks has some big shoes to fill. Then again, the 61-year-old actor isn't exactly a stranger to taking on epic roles. He's played Walt Disney in Saving Mr. Banks and pilot Chelsey "Sully" Sullenberger in Sully, after all. So I have little doubt that Hanks is up for the challenge.
I have to say, even after watching Dr. Christine Blasey Ford and Brett Kavanaugh testify this morning — along with the reactions of many GOP senators — a photo of Tom Hanks channeling Fred Rogers is something by weary soul desperately needed. (Not that it makes that whole situation any better, but still.) I'm a little bummed that I still have to wait more than a year to catch this intriguing film. But I have a feeling it will be more than worth the wait.