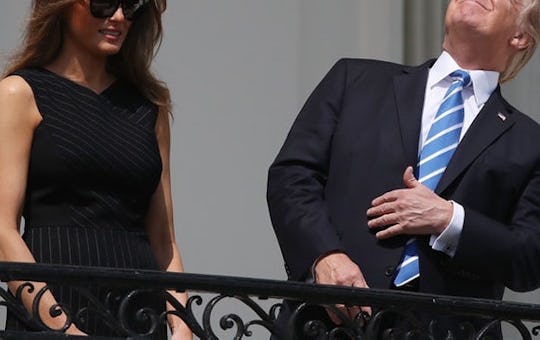 Mark Wilson/Getty Images News/Getty Images
This Photo Of Trump Watching The Eclipse Is The Most Trump Photo Ever
President Donald Trump took a break on Monday afternoon to witness what almost every other American across the country has been prepping for: The total solar eclipse. As everyone else was donning a pair of protective glasses or other types of gear, this photo of Trump looking at the eclipse shows him doing the one thing you're not supposed to do. And, honestly, it's the most the "Trump" thing to happen during his presidency thus far.
Meanwhile, first lady Melania Trump and son Barron managed to keep their frames on throughout the event. Trump, on the other hand, ditched his to stare right up at the sky from the Truman balcony, at least momentarily.
According to Ted Mann of The Wall Street Journal, someone standing among the White House aides shouted a warning at the president; "don't look," they reminded Trump. But rather than heed others' advice or suggestions, Trump once again opted to take matters into his own hands and did exactly what he wanted to do, despite it being absolutely wrong, and even dangerous.
Obviously, Twitter had plenty to say about Trump looking at the eclipse. Whether it was perceived a symbol of his personal bravado or the direction of his presidency, users found it to be completely symbolic of what is and what is to come. Was it Trump's distrust of the media that emboldened him to disregard all warnings? He's yet to tweet on the matter, though the first lady did celebrate, sharing: "Exciting to watch the total eclipse with @potus today!"
You can watch the video of Trump staring and pointing at the solar eclipse below, including the "don't look!"
In Washington, D.C., the solar eclipse was at 81 percent of its totality, causing a few minor changes for viewers. All across the United States, Americans within the 70-mile wide path of complete totality enjoyed a much more dramatic experience, resulting in a pretty severe drop in temperature and darkened skies.
So will Trump suffer any repercussions from his behavior? What happens when you look at a solar eclipse without glasses? Slate explained that a quick glance at the sun won't likely cause you to go completely blind, but prolonged viewing (as often happens during astronomical events of this nature) can lead to eye damage. Given all of the warnings against staring straight at the eclipse (which definitely weren't "fake news") why run the risk?