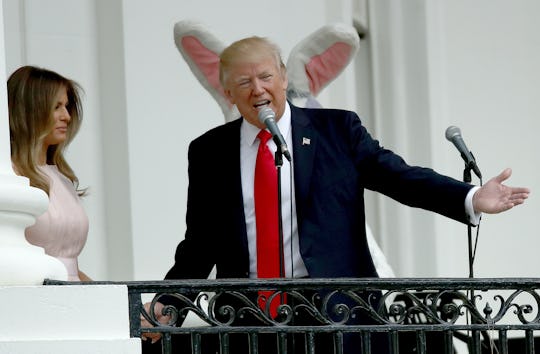 Win McNamee/Getty Images News/Getty Images
This Photo Of Trump's Easter Egg Roll Is Troubling
The White House held its 139th Easter Egg Roll on the South Lawn on Monday, drawing substantially smaller crowds than in years past. Officially hosted by the first lady, the Easter Egg Roll has become as much of an American tradition as any other. As photos emerged over the course of the event showing President Donald Trump and First Lady Melania Trump greeting the crowds and interacting with children, folks across social media began to notice an alarming trend. In particular, one photo of Trump's Easter Egg Roll showed how tone deaf his administration is when it comes to representing America's children.
The photo certainly isn't one of Trump's best photos, as he awkwardly displays a handwritten letter to America's servicemen and women among a throng of children. In fact, Trump displays that same goofy "Hey, look what I did!" expression and holds up his letter in the same pose he's used for every executive order signing photo op. Even more priceless is the blonde-haired girl just over Trump's shoulder, who clearly gives zero f*cks.
But the biggest issue with this photo isn't Trump's stale pose or this little girl's "I'm so over this" look of disdain: It's the fact that it just might be the whitest picture to come out of the White House yet.
The photo itself isn't overtly offensive, but then again, neither is marginalization — because that's exactly what happened when the White House selected this photo out of hundreds to be the White House photo of the day. Just out of frame are two girls of color, one of whom can just barely be seen in the bottom left corner. Other camera angles of that same moment show Melania seated next to a girl of color; at one point, Melania and the girl share a beautiful hug together.
While trying to play down the fact that this year's Easter Egg Roll wasn't planned as well as it was in years past, Press Secretary Sean Spicer told The New York Daily News that the turnout size shouldn't matter because really, this was all about the kids.
This is about the children… We wanted to get this back to a focus on the children. So if you look at the number of people here in terms of school allocations, military, it's all the same. The public lottery is the same number of people. This is getting this thing back to the focus of being about kids and families and not about adults.
That's all well and good, Mr. Spicer — but if the White House Easter Egg Roll is supposed to be focused on the children, it would do a world of good to host an event that actually represents the diversity of American children in the first place.
According to Forum on Child and FamilyStatistics data from 2015, almost one-quarter of American children are Hispanic. More than 15 percent of American children are black. Just over 5 percent of American kids are Asian and the same holds true for the percentage of children who are two or more races. Yet looking around Trump's Easter Egg Roll, you'd be hard pressed to find images of diversity like these from last year's Easter Egg Roll:
Even when taking other photos into consideration, the lack of diversity at Trump's first Easter Egg Roll was painfully obvious. Also obvious: Trump's complete inability to relate or even try to be likable to children.
Part of the White House's diversity problem could have stemmed from the fact that D.C.-area schools didn't receive Easter Egg Roll invitations this year, administrators alleged to The New York Daily News. Washington D.C. is 47 percent Black, according to Census Reporter.
But then again, this is the same president trying to ban refugees from entering the United States, who wants to build a wall along the U.S.-Mexico border, and appointed a man with a terrible civil rights track record as the nation's attorney general. (Sessions has not responded to Romper's requests for comment.) Are we really that surprised that Trump is just as tone deaf on something as simple as trying to have more than a handful of kids of color at the Easter Egg Roll? Yeah, me neither.
Easter Egg Roll girl — my kindred spirit — I feel ya, girl. I really do.