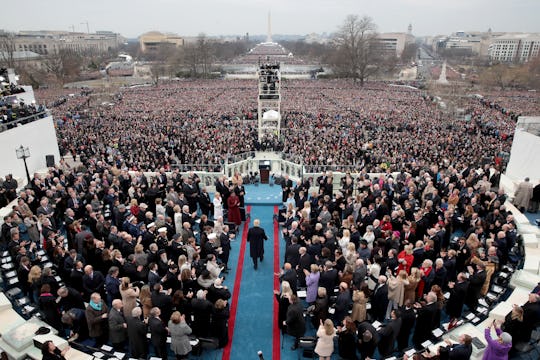 Scott Olson/Getty Images News/Getty Images
The Inauguration Picture That Will Give You Hope
There are many watching the inauguration of Donald J. Trump who are gripped by fear, grief, and abject hopelessness. As several reporters on-site in Washington D.C. have pointed out, though, we shouldn't lose our faith in each other just yet. This photo of Trump's inauguration vs. Obama's should give us hope. It shows that maybe, just maybe, the resistance is stronger than we thought.
While President Trump boasted about the turnout for the celebration that preceded the inauguration, as well as the ceremony itself, it turns out that the numbers kind of pale in comparison to previous ones — including that of former-President Barack Obama's.
The Washington Post reported that for Obama's pre-inauguration concert back in 2009, the mall was packed with nearly 400,000 people. Visual comparisons between Obama and Trump's turnouts started popping up almost immediately, and they seem to be supported by the numerical estimates of attendees: Buzzfeed reported that there were around 10,000 people at the National Mall during Trump's pre-inauguration ceremony— meaning its hardly filled anywhere near capacity.
As the inauguration ceremony began Friday morning, the comparisons continued as people began discussing the turnout on Twitter, live from outside the Lincoln Memorial where it had begun to rain.
People were also quick to point out that the audience in attendance at the inauguration was overwhelming white and male, which isn't all that surprising considering his cabinet is also overwhelmingly white and male.
But what might be more important than who's there is who isn't there. Throughout the United States, protests have been taking place that have united people from all walks of life — many of whom are fearful for their lives under the new Trump administration.
The metro system in Washington D.C. also tweeted a comparison, showing the number of riders on inauguration day in 2013 when Obama was reelected, compared to ridership leading up to Trump's swearing-in ceremony:
It's actually somewhat challenging to get an accurate headcount of the turnout in the National Mall, because anyone can watch the ceremony from that locale. But the visuals provided by overhead photographers, as well as those on the ground, give us a picture of the demographics of Trump's supporters. It's not a diverse picture, but it reflects Trump's message: to make America great again . . . for the people who support him. The compelling juxtaposition presented by the diverse picture of those who are protesting throughout the nation, taking to the streets to demand change, are speaking more to the message left to the nation by former president Obama: together, yes we can.