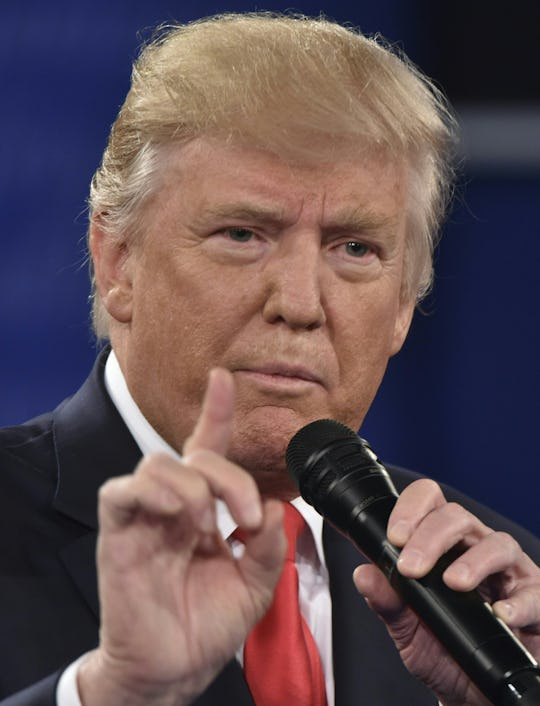 PAUL J. RICHARDS/AFP/Getty Images
This Picture From The Debate Is Just Too Perfect
During the second presidential debate, all eyes were on Donald Trump and Hillary Clinton to see how they would respond to the recently unearthed 2005 tape of Trump making lewd comments about sexually assaulting women. With that context, this picture from the debate was perfectly placed for what it said about the connection between Trump and consent.
In the video of Trump and Billy Bush, Trump said he didn't wait for consent before making moves on beautiful women. In his words, "You know I'm automatically attracted to beautiful — I just start kissing them. It's like a magnet. Just kiss. I don't even wait."
Let us not mince words: That amounts to sexual assault. Under the laws of New York, where Trump lives, sexual offense is defined as when a person "forcibly touches the sexual or other intimate parts of another person for the purpose of degrading or abusing such person, or for the purpose of gratifying the actor's sexual desire."
Although Trump tried to play his comments off as "locker room banter," some women have come forth with stories that he did allegedly commit sexual assault. In one alleged example, CNN's Erin Burnett said her friend described an incident when Trump did kiss her without consent. According to Huffington Post, Burnett recalled of her friend's words, "Trump took Tic Tacs, suggested that I take them also. He then leaned in ... catching me off guard and kissed me almost on the lips. I was really freaked out."
Former Miss Utah, Temple Taggart, described a similar alleged situation with Trump to The New York Times earlier this year:
He kissed me directly on the lips. I thought, "Oh my God, gross." He was married to Marla Maples at the time. I think there were a few other girls that he kissed on the mouth. I was like "Wow, that's inappropriate."
Several other women shared similar stories of Trump throwing himself on them without their consent. With all of that very fresh on voters minds, this screen grab of Trump standing next to the word "consent" was very poignant.
Still, Trump did everything he could to sidestep the issue about sexual assault. When asked about it at the start of the debate, he dismissed it as locker room talk. He attempted to quickly move on by adding, "When we have a world where you have ISIS chopping off heads, where you have frankly drowning people in steel cages, wars, and horrible, horrible fights all over — so many bad things happening."
Unfortunately for Trump, as the now-viral photo demonstrates, he wasn't totally able to escape the topic of consent.