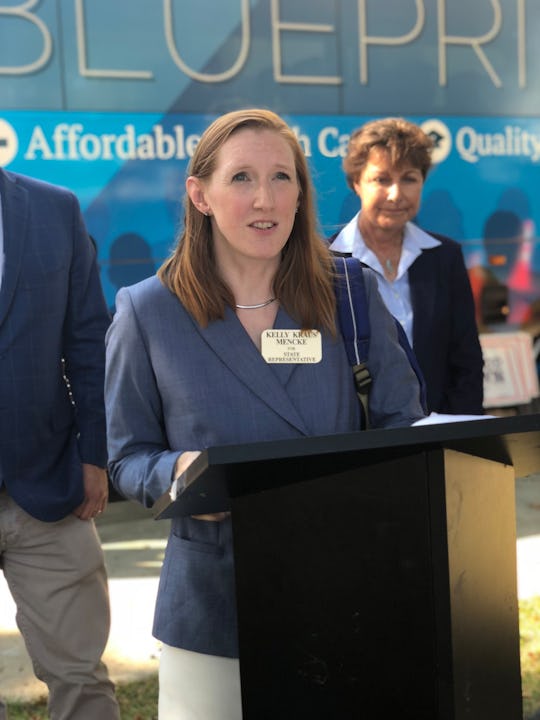 Courtesy of Kelly Kraus Mencke
This Politician Was Told To "Stay Home & Raise Your Kids" & She's Not Having It
On her campaign's Facebook page, Kelly Kraus Mencke describes herself as a "wife, mother, working woman." So it's no surprise that the Democratic candidate for Ohio House of Representatives, representing District 55, wanted to make the Buckeye State better for its families. She wanted better jobs, better education, better health care — to "build a better Ohio." But Kraus Mencke lost the race to Republican challenger Gayle Manning, a former Ohio state senator. And now that Kraus Mencke's campaign for state representative is over, she has a few words for the anonymous voter who told her to "stay home and raise your kids."
"I cared enough to make a stand to improve the lives of many Ohio families," Kraus Mencke tells Romper in a recent interview. "I loved enough to be sure my family was first during my campaign."
Kraus Mencke, 37, received a handwritten card in the mail right after the midterm elections, but didn't open it until a few days later, she tells Romper. The card, though, wasn't signed, nor did it include a return address. And it wasn't pleasant, either. Instead, the anonymous author, wanted to congratulate Kraus Mencke on her "political loss" because, they wrote, "your family and your small children need you home."
"You have no business in Columbus because you need to raise your kids," the person proclaimed in the letter, of which she shared an image on Twitter.
"The idea espoused by whoever sent that horrible card to Kelly — that women shouldn't run for office if they have children — is plainly absurd," David Pepper, chairman of the Ohio Democratic Party, tells Romper in a statement. "Young people need to see more positive, strong women as role models and our society needs leaders who understand the struggles of raising a family."
Kraus Mencke, who has three kids — 5-year-old Matthew, 3-year-old Samuel, and 7-month-old Etta Jane — took to Twitter on Tuesday, Nov. 13 to share a photo of the anonymous note. She tells Romper that she believes she was the only political candidate in Ohio's Lorain County to receive this type of card, and she considers it a piece of hate mail.
The Democrat and mom of three chatted with Romper over email about the anonymous note, how it made her feel, and her vision for her political future — and the future of Ohio.
Romper: How did you feel when you received the card?
Kelly Kraus Mencke: When I read the card, I was taken aback. The front was a cute old-time baby carriage. "Congratulations," with "Stay Home!" hand-written underneath. I was shocked. How could a new baby card be used to instigate shame. I shared the card with my husband and said, "I got my first piece of hate mail." Considering thousands of dollars in dark money was spent against me in the race, this was strikingly personal. I got my thoughts together, looked at my husband and children, and regained my confidence. I read the card a few times to better "listen" to the voice of my neighbor speaking up.
Romper: How did the message in the card make you feel, both as someone running for office and as a mother?
Kraus Mencke: The card reminded me of why I was running. I remembered why I took on such a big challenge. Some of the greatest experiences I had on the campaign were with parents of young children, we could talk about real life and what I could do with policy in Ohio to help our families. I don't know that campaigning for public office gets more real than that.
Romper: What do you think is the purpose of the card?
Kraus Mencke: I think someone was truly motivated to make their point of view known to me. Sadly, it was not meant to be a conversation. It was a statement, a strong statement.
Romper: What is your message to the card writer?
Kraus Mencke: I would love to have a conversation with the writer. I was honored to put myself forth as the official Democratic candidate, to put forth the effort to earn a seat in Ohio's Legislature. It was very important to me to bring a real voice for families. It is also important to break the picture of who we see in office representing us, women make great legislators at any level of government and are still amazing mothers. It was amazing to have the chance to run in my 30's, because I hadn't seen myself running until I was much older. That was the picture of women in politics when I was younger that is now changing. I am amazed that I participated in making that change. Many women took that chance in 2018, and we changed the face of legislators. ‌
Romper: What do you envision your future in politics to be? Will you run again?
Kraus Mencke: I saw myself as an elected official when I was an elementary school student and focused on state and federal policy in college. I learned a lot from campaigning for others and myself. I am happy to have gained a lot of support and built a strong network. Yes, I will run for elected office again. My husband and I will come together to debrief and recover from the 2018 cycle. We will decide together what office will be my next run to earn my first office to serve in. ♦︎
In other words, Kraus Mencke won't be deterred. She's committed to making Ohio a better place for families, including hers.
The interview was edited for length and clarity.
This first-time mom wants to have a home birth, but is she ready? Watch how a doula supports a military mom who's determined to have a home birth in Episode One of Romper's Doula Diaries, Season Two, below. Visit Bustle Digital Group's YouTube page for the next three episodes, launching every Monday starting November 26.