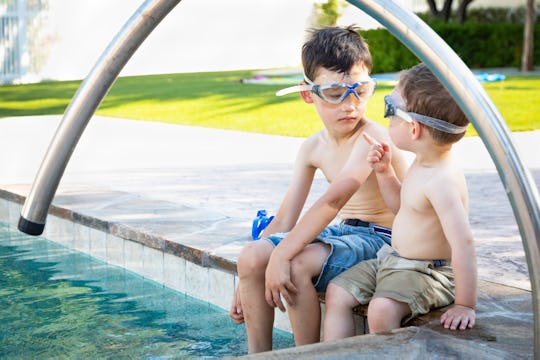 Fotolia
These Plastic Pool Steps Were Recalled Due To Entrapment & Drowning Hazards
You don't have to be plugged into social media to know pool safety is a big topic of conversation at the moment among parents in the United States. Accidental drowning is the leading cause of death in children under the age of four, according to the Daily Mail, and it's understandable families have concerns about this epidemic. The good news is there are ways to prevent accidental drownings at your home or elsewhere, like paying attention to recalls involving pool safety, for instance. And on that note, here's everything you need to know about the recalled Confer Plastics pool step system. The Consumer Product Safety Commission (CPSC) claims "children's limbs can become entrapped in the side openings of the step systems, posing a drowning hazard," according to its website. Confer Plastics did not immediately respond to Romper's request for comment.
If you own a pool or know someone who does, then you probably have some background knowledge about the different types of pool steps. In fact, it's possible you might have installed a set of pool steps at one point. And if you did perform your own installation, there's a good chance you're familiar with Confer Plastics, a company that sells its pool steps at major retailers like Amazon and Walmart.
Unfortunately, Confer Plastics received a troubling report about one of its Confer Plastic's Curve in-pool step systems from a consumer sometime in July. The company said in a statement posted to its website:
In July 2018, and for the first time ever, Confer Plastics was advised that a child stuck his arm into a side opening on one of Confer Plastic's Curve in-pool step systems and the arm became temporarily wedged. The child was able to remove his arm but did suffer some scratches. The side openings are present to assist in water circulation in the pool and are used by virtually every manufacturer of plastic in-pool step systems.
Considering an entrapment — whether it be a leg or arm — could lead to an accidental drowning, Confer Plastics took its investigation into the matter very seriously. Ultimately, the company decided on Tuesday it was best to recall the product, stating:
Confer Plastics immediately investigated the event and determined that the side openings present a potential hazard. To address the potential hazard, Confer Plastics reported the incident to the Consumer Product Safety Commission (CPSC). Confer Plastics then worked with the CPSC to notify consumers and to design a repair kit that completely removes the potential hazard. Because of Confer Plastic's rapid and effective response, the CPSC accepted Confer Plastics into its Fast Track Recall Program.
So, how do you know if your Confer Plastics product is included in the recall? Check out the CPSC's list of affected models that includes product descriptions as well as manufacturing dates.
Model: #CCX-AG Product Description: Confer Curve base (staircase) 4-step for aboveground pool Manufacturing/Date Code Range: All 2013-2018
Model: #CCX-IG Production Description: Confer Curve base (staircase) 3-step for in-ground pool Manufacturing/Date Code Range: All 2013-2018
Model: #CCX-ADD Product Description: Curve add-on unit for either in-ground or aboveground stairs Manufacturing/Date Code Range: All 2013-2018
If you have an affected system, stop using it and call Confer Plastics ASAP to order a free repair kit.
Although recalls tend to be scary, Confer Plastics is using this concerning situation to address pool step safety across the board. Confer Plastics added in its statement:
But Confer Plastics did not stop there. As an industry leader in safety, Confer Plastics has also redesigned its Curve in-pool step systems and removed the side openings. Because most other plastic in-pool step systems available to consumers have similar side openings, Confer Plastics is also working with pool and spa industry associations to raise awareness of the potential hazard that the side openings present. Confer Plastics hopes that the other manufacturers in the pool and spa industry will follow its lead and make similar adjustments to their products.
Awesome. Here's to hoping other pool product companies out there take Confer Plastics' findings into consideration.
Going forward, be sure to check for any recalls involving pool safety. Although parents mostly tend to focus on food and car-related recalls, these warnings about pool products are just as important.