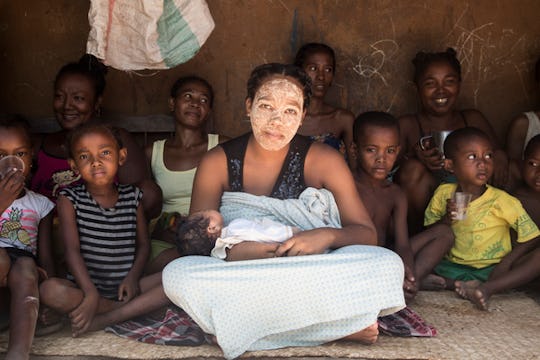 Courtesy of WaterAid/ Ernest Randriarimalala
11 Powerful & Captivating Photos Of Birth Traditions Around The World
In a captivating new photo series, the international nonprofit WaterAid explored several birth traditions around the world to help raise awareness about the need to make clean water accessible in all health care facilities, but especially in the world's poorest countries. Hundreds of thousands of babies are born each day around the world, and in the United States, a baby is born every eight seconds, according to data from the U.S. Census Bureau. But the reality is, not every baby is born into a clean environment and, to put it simply, that's not OK.
One in three hospitals and clinics don't have access to clean water, according to WaterAid, and that's troubling for several reasons. "Without water, there are no sterilized instruments, no place to use a toilet, and no way for women to wash themselves or their children," Sarina Prabasi, CEO of WaterAid America, tells Romper. "Without clean water, women and children are at risk of disease and spend hours collecting water instead of getting an education or earning income to improve their lives."
WaterAid works to "combat the global water crisis" and Prabasi explains the organization's inspiration behind the photo series was rooted in its mission. "We wanted to show different ways that birth is celebrated around the world, and to underscore that access to clean water is vital during childbirth and early in a child's development," Prabasi tells Romper.
"It's unfathomable to me, as a mother to two young children, that unhygienic birth conditions claim the lives of nearly half-a-million newborns every year," she added. "We can and should do better."
So while looking through these photos, Prabasi says she hopes they "will give people pause to think about all of the women around the world giving birth without clean water," raising awareness that access to it is, indeed, a human right.