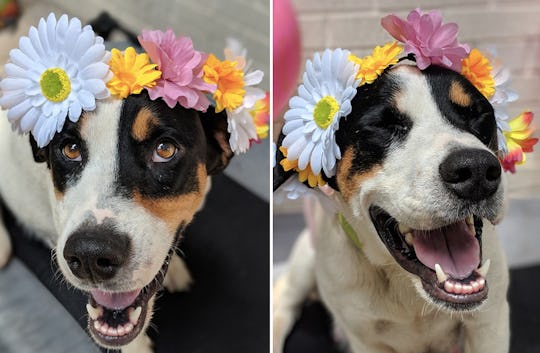 Courtesy of Sarah Freeman
This Pregnant Foster Dog's Maternity Shoot Will Make You Melt Into A Puddle Of Joy
On Feb. 1, 2017, Beyoncé redefined the maternity photo shoot when she announced she was pregnant with twins. And this week, Ima, a pregnant foster dog, redefined the maternity photo shoot once again. Ima's current foster mama, Sarah Freeman, went all out when styling the doggo for her maternity shoot, and the photos will not disappoint.
Freeman is a volunteer for the Greater Charlotte SPCA in Charlotte, North Carolina. That means she fosters dogs that the SPCA rescued, often from high-kill shelters, according to the organization's website. The foster mom only received Ima a few days ago, and Ima is already nearly ready to give birth. "She was abandoned in a kennel for 5 days before the neighbor realized what was happening! The neighbor decided to keep her but unfortunately got out by jumping out of a 6-foot fence," Freeman tells Romper in an email. "She came back a month later pregnant. Unfortunately the woman knew she couldn't properly take care of Ima and the pups so they were surrendered in hopes for a better and safe life!"
To document her time with the foster dogs who stay with her, Freeman runs an Instagram page called House of Fosters. Her photos from Ima's maternity shoot quickly drew attention for being so gorgeous and sweet. I mean, just LOOK at them!
Touches like Ima's flower crown, her "mom to be" sash, and "ready to pop" balloons bring the whole shoot together, and it's clear that Ima is a natural on camera. So, how did this maternity shoot come about? Freeman tells Romper:
I thought of the idea because I have so many friends who are pregnant and had their own maternity shoots. Also since she is so calm and sweet, it was easy to photograph her. Plus how can you not photograph that smile!
Not to mention, Freeman believes that "Every mother to be deserves a maternity photoshoot," according to her Instagram caption of the photos. Plus, Freeman says Ima seemed to love modeling, though she was very happy to go back inside for a rest and some air conditioning after the shoot (something all pregnant women can definitely relate to).
"She was nervous at first but I gave her lots of positive vibes and lots of love!" Freeman tells Romper via email. "Ima just wants your love so she was so happy to be apart of it! She loved modeling but was so happy to go back inside to the AC and her bed haha."
If seeing photos of Ima gives you the same feels it gave me, you may be wondering if she (and her future puppies) are available for adoption. Good news: they are! Ima will be available for adoption six weeks after giving birth, and her puppies will be available eight weeks after they are born. You can donate to the Greater Charlotte SPCA in Ima's name, or apply to adopt Ima or one of her puppies anytime on the Greater Charlotte SPCA's website — something Freeman highly recommends. "She loves any affection you give her and does well with my dog and other fosters," Freeman told People in an interview. "I think she will do great in any home!"
Freeman also hopes that Ima's adorable photo shoot will encourage people to adopt dogs instead of buying them. "So many people spend thousands of dollars of 'pure breeds' when we have amazing dogs being abandoned and are in need of your love," she tells Romper. "One thing I want to come out of this is please think about adopting before buying. You can't buy love but you can adopt it!"