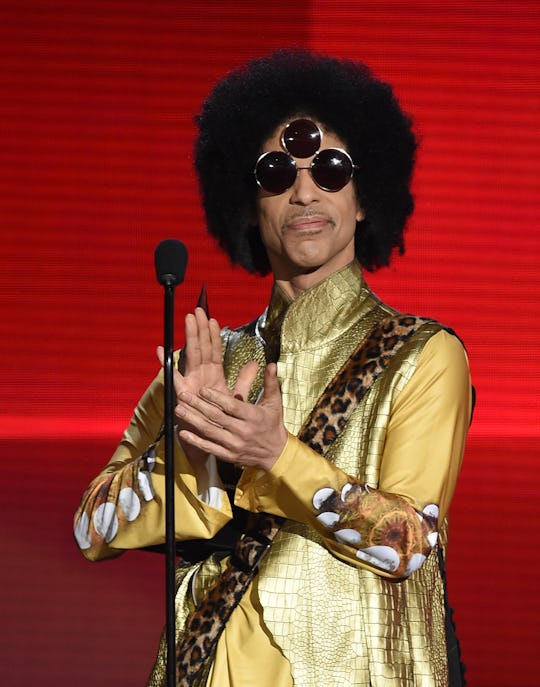 Kevin Winter/Getty Images Entertainment/Getty Images
This Prince Quote Beautifully Sums Up Why The Musician Inspired So Many
The Associated Press confirmed Thursday through a publicist that Prince, the legendary musician behind "Purple Rain," has died. So many of his fans are mourning and seeking one more connection with him that both his last Instagram image and the URL that he last tweeted were inaccessible just after news of his death broke. This one Prince quote easily sums up just why Prince was so beloved by his fans and why they won't stop mourning anytime soon.
Despite everything, no one can dictate who you are to other people.
Prince said the quote during a 2004 interview for a Rolling Stone cover story. He said that he's aware that some people see him as a "brat" — Rolling Stone said that was his own word — and that he does care what people think. But, after his performance with Beyoncè and receiving praise from Alicia Keys during his Hall of Fame induction, he realized that he's had an overwhelming impact on young artists. Those artists, and many of his fans, see right through his "bratty" moments to the musician — they understand him, and he understands them, according to Rolling Stone:
The respect of young artists — I love that. Despite everything, no one can dictate who you are to other people. Alicia Keys gets it. All these hip-hop artists, the first thing they do is start their own label and lock their business down — we had a lot to do with that.
Prince realized that his legacy had an effect on younger artists, but that didn't keep him from doing things his way. For example, Rolling Stone's biography page noted that he changed his name to an unpronounceable symbol in the '90s just because he could, and he also went door to door at one point preaching his faith (Prince was a Jehovah's Witness). Prince also had as many style icon moments as David Bowie, and his songs were overtly sexual — but without shame. Prince wasn't afraid to be exactly who he was, and his above quote makes that clear. Sure, sometimes people won't like you, but you have just as much power over how their opinion affects what others think. His message was clear: only you know who you really are.