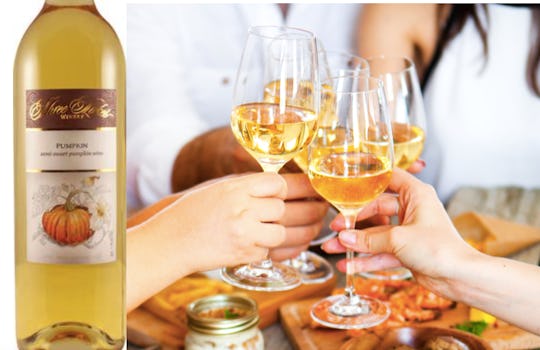 Three Lakes Winery; yatcenko/Fotolia
So You Can Now Get Pumpkin Wine Year-Round For All Your Basic Fall Vibes, & I Need It
I consider myself quite the foodie and wino. I like to try all sorts of new things, and can't lure myself from the wine and cocktail menu when I go out. But at heart, I'm pretty basic. I guess that's why the idea of pumpkin wine has me so excited. I mean, we're getting very close to the most wonderful time of the year — pumpkin spice everything season. Why not get a jumpstart on the festivities by ordering a bottle of this semi-sweet pumpkin wine from Three Lakes Winery to usher in fall?
According to the Three Lakes website, this wine was once only made for Pumpkin Fest in October, but proved to be so popular that they decided to make it year round. Described as a semi-sweet wine with a fairly low 11 percent alcohol by volume (ABV) content, it would be great in a spritzer or over ice at a backyard party during the summer. Three Lakes Winery is the second-oldest winery in Wisconsin, and the original makers of cranberry wine in the state. In a state known more for its beer and cheese than its wine, Three Lakes is a standout with their dessert line of wine, as well as a notable Chardonnay among other more recognizable varietals like Riesling and Zinfandel.
I think this wine really lends itself to getting creative in the kitchen. The rich pumpkin flavor as we know lends itself towards spicing and cream. Why not try a mulled wine? Or a boozy pumpkin spiced latte? Just pour a glass in the blender with a shot of espresso, some yummy spiced cocktail syrup, and a scoop of vanilla ice cream. Blend it and top it with some fresh whipped cream and sprinkle of cinnamon? I think it would be a fantastic drink.
Fruit wines make great spritzers. You pour 50 percent chilled wine — in this case the pumpkin wine from Three Lakes Winery — and top with 50 percent club soda or vanilla seltzer. If you are so daring, you could go a little more boozy and add some Fireball to the cocktail, giving it a definite kick. But go easy with the whiskey. The smoky cinnamon liquor could overpower the delicate notes in the pumpkin if your pour is a bit too generous. You could also try a vanilla vodka, some champagne, or even Drambuie, which is a honey-flavored liqueur that is oh-so-smooth and would pair perfectly with pumpkin.
I live in the Northeast. Pumpkin patches, apple orchards, and all things fall are a big deal in this region. Why I've never had pumpkin wine, when I've had apple, cranberry, blueberry, and even persimmon wine, is beyond me. I'm feeling a bit left out. Like somehow, Wisconsin not only gets to bathe in cheese curds and moderate summer temperatures, they also get to have a wine the rest of us are bereft of. Thankfully, the pumpkin wine from Three Lakes Vineyards is available for shipping (so long as you don't live in Alabama, Arkansas, Delaware, Kentucky, Mississippi, Oklahoma, Rhode Island, Utah, or Vermont), and only $13.
Of course I want you to drink responsibly, and you should always have a designated driver. I'll go one step further, and say that maybe if you're drinking that you should lock your phone away some place with a combination lock that drunk you can't open. That way you're not tempted to drunk text your ex when the smell of your cinnamon spiked wine reminds you of that time you went apple picking and then out for a hayride with cocktails. Trust me, you'll be better equipped to enjoy your pumpkin wine in peace if you know you're safe from making poor choices.