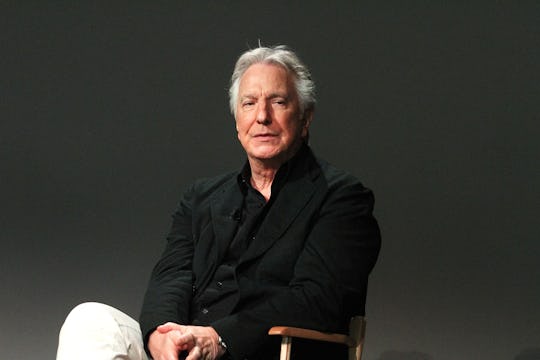 This Quote From Alan Rickman Shows Why The World Is Mourning His Death
The world got a little bit darker Thursday. Much-beloved star of British film and theater Alan Rickman died in London on Thursday, the BBC reported. The term "beloved" might actually be an understatement for Rickman. He was considered a giant of stage and screen, bringing to life characters from the honorable Colonel Brandon in Sense And Sensibility to the villainous Hans Gruber in Die Hard — and, of course, Rickman played the iconic role of Severus Snape in all eight of the Harry Potter movies. According to BBC News, Rickman had been suffering from cancer when he finally died "surrounded by family and friends." But one quote from Alan Rickman shows just why the world mourned his death so heavily.
Rickman touched countless lives over the course of his 30-year career. And fans looking to pay tribute could certainly turn to any of the powerful lines he's delivered since first taking the stage in a 1978 production of Romeo and Juliet. But instead, as a fan of both his legendary acting and Rickman's global activism, I think it's fitting to consider this quote from Alan Rickman, attributed to Rickman by The Guardian, that shows exactly why the world is in mourning today:
Actors are agents of change. A film, a piece of theatre, a piece of music, or a book can make a difference. It can change the world.
Few actors touched or changed as many lives as Rickman did. The London-born actor was a graduate of the Royal Academy of Dramatic Art and worked with the Royal Shakespeare Company, The Guardian reported. Over the course of his career, he stretched his skills playing a breadth of characters in romances, dramas, and even comedies. In fact, he won Bafta nominations for his roles in the romance Sense and Sensibility, and in Robin Hood: Prince of Thieves. And of course, Rickman touched an entire generation through the incredible nuance and deep emotion he brought to the character of Severus Snape.
What is amazing about Rickman — and what the above quote shows about him — is that he didn't see acting as a way to show off his own talent or something similarly vain. Rather, he saw acting as a way for people to present stories and emotions to an audience. If there ever were an actor who performed for arts' sake, it was Rickman.
So let me be among the first of his fans to say thank you to an actor who managed to make a difference to countless people, both in this generation and in years to come. He will certainly be missed.
Image: Laura Cavanaugh/FilmMagic/Getty Images