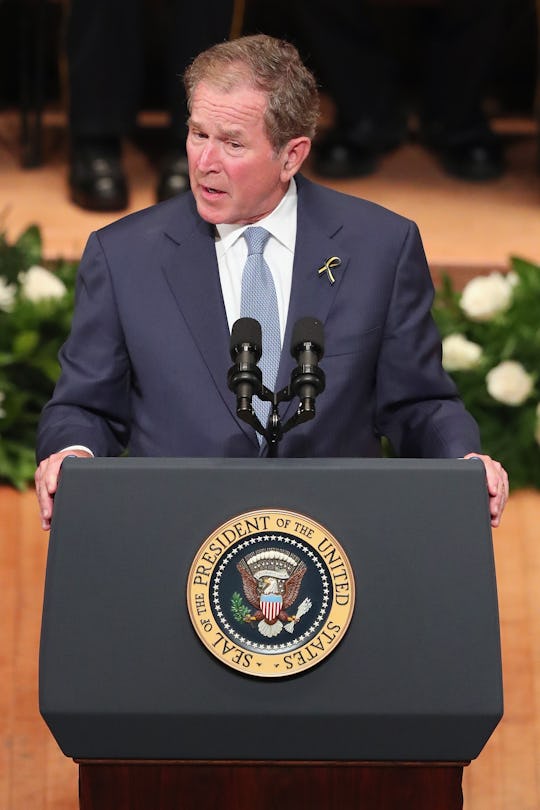 Tom Pennington/Getty Images News/Getty Images
This George W. Bush Quote About Trump Is Perfect
Republican politicians have, for the most part, been silent about opposing or criticizing President Donald Trump. But that changed on Monday, when President George W. Bush gave his first post-election interview on TODAY, where he expressed his opinions of some of the things going on in the Trump administration, including Trump's relationship with the press. During his conversation with Matt Lauer, an eloquent President George W. Bush showed that power and accountability go hand-in-hand.
Bush demonstrated a very balanced view of our president, fairly saying that we can't expect Trump to uphold his promise to unify the country when he's only been in office for one month. "I think you have to take the man for his word that he wants to unify the country," Bush said during the TODAY segment.
However, just because Bush believes the country needs to give Trump a chance doesn't mean he agrees with Trump's distrust of (and disdain for) the media.
Bush took a sharp stance against Trump, who has called the media "dishonest," and separated himself from many Republican leaders who have supported Trump's beliefs about the media in doing so. The quote beautifully demonstrates how power is inseparable from demands for accountability — something Trump has seemed unable to accept:
I consider the media to be indispensable to democracy, that we need an independent media to hold people like me to account. Power can be very addictive, it can be corrosive and it's important for the media to call people to account who abuse their power, whether it be here or elsewhere.
Accountability is important for any person in political office, but it's never seemed as critical as it has for the Trump administration, which has — in just a month's time — released misleading statements about a Bowling Green massacre and the resignation of National Security Adviser Michael Flynn over possibly illegal conversations with Russia over sanctions.
And while Bush pointed out that the sheer number of news outlets makes unifying the American people difficult because they all tell such different stories, the diversity of the news media is more important than ever.
That's because we have an administration that sends information mostly through conservative outlets such as Fox News and has not allowed several prominent news outlets into White House briefings. We have an administration that has popularized the term "alternative facts" in reference to something as minuscule and unimportant as the size of Trump's inauguration crowd. Having diverse media that can hold the president accountable is a necessary part of our checks-and-balances system.
Bush's critiques of Trump is especially noteworthy because he rarely commented on the Obama Administration. "He deserves my silence," Bush said of President Obama in 2009, CNN reported. "There's plenty of critics in the arena. I think it's time for the ex-president to tap dance off the stage and let the current president have a go at solving the world's problems."
Apparently, Bush could no longer beat around the bush.
Another sharp contrast between the former Republican president and the current administration is Bush's stance on religious tolerance and Muslim immigrants. "It's very important for all of us to recognize one of our great strengths is for people to be able to worship the way they want to, or not worship at all," Bush told Lauer. "The bedrock of our freedom is the right to worship freely."
When asked about whether he supports Trump's temporary ban on the entry of immigrants from seven Muslim majority countries, Bush eloquently stated his opposition:
"I am for an immigration policy that is welcoming and upholds the law."
And any former president would know: that's the American way.