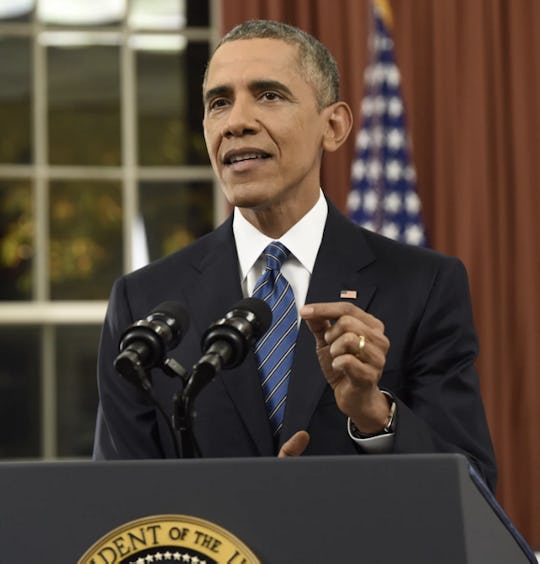 This Quote From Obama's Paris Agreement Speech Captured How Huge A Deal Stopping Climate Change Is
Agreement was reached in Paris today about how nations around the world can fight to end global warming. In a rare Saturday address, President Obama made remarks about the pact, and one quote from Obama's speech about the Paris agreement perfectly captured why stopping climate change should be our most important goal.
The agreement reached Dec. 12 strives to cap global warming at of 3.6 degrees Fahrenheit, on average, annually. Additionally, larger and wealthier nations will aid smaller, less economically advanced countries to decrease annual carbon emissions. The agreement came at the end of the COP21 Conference, held in Paris two weeks ago, from Dec. 7 through 8. Over 200 nations participated in the conference, which, building on the year-long work of the Climate Action and the UN Environment Programme brought together industry leaders from various sectors including government, business, finance, UN, and civil society. The COP21 Conference's mission was to scale the green economy and help save the planet.
Reducing greenhouse gas emissions and addressing climate change was one of President Obama's goals when he entered the Oval Office seven years ago. Describing the agreement Saturday evening, he seemed to focus on the temporality of humans. He framed the goal of the agreement in personal terms, imagining "taking my grandkids, if I'm lucky enough to have some, to the park someday, and holding their hands, and hearing their laughter, and watching a quiet sunset, all the while knowing that our work today prevented an alternate future that could have been grim." He also acknowledged, "We may not live to see the full realization of our achievement. But that's OK." But he really drove home the importance of the agreement in his concluding line, a single quote that addressed how much bigger and enduring the earth is than any individual person. Obama said of stopping climate change:
That is our most important mission in our short time here on this Earth.
In today's world, where terrorism, acts of war, genocide, and hate dominate international news, President Obama also sent a message to the world about the value of countries working together to achieve greatness. On Twitter, he called the international consensus to help save the planet "huge."
In 2008, President Obama ran on a platform of HOPE, and the Paris climate agreement certainly enacts that very message, so it makes sense that he's touting the pact as a huge victory. But no matter where you stand politically, if you are a fan of President Obama's presidency or you take issue with it, his remarks about unity — and a mission bigger than any individual or individual nation — could not come at a better time.
After all, the world doesn't belong to any one individual or any one individual nation, as it will (hopefully) outlive us all.
Images: Getty; FRANCOIS GUILLOT/AFP/Getty