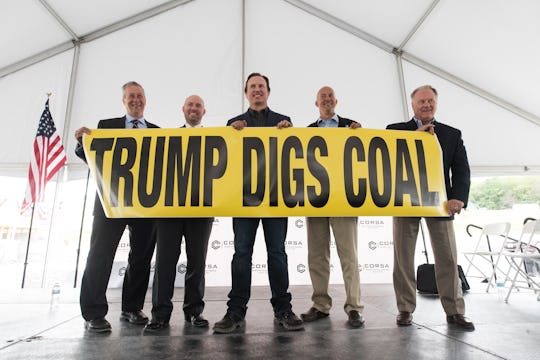 Justin Merriman/Getty Images News/Getty Images
This Resignation Letter From An EPA Official Totally Calls Out Trump For Ignoring Science
In week 27 of the hit new show, "Survivor: The White House Addition," another contestant has left the island, i.e. Washington, D.C. And no, it's not Anthony Scaramucci. Tuesday, a top official at the Environmental Protection Agency resigned, citing the current administration as a main source of concern. Yes, someone else just resigned under Trump, and you have to see the resignation letter. Elizabeth "Betsy" Southerland officially left the EPA on Tuesday, leaving behind a two-and-a-half page resignation letter explaining her decision, and it's seriously awesome.
"I wish I could do it all over again!" Southerland began her letter. "I have had the most wonderful 40 years working in environmental protection." Soon after, she launches into a rather blistering review of the current administration, especially Trump's pick for EPA Administrator, Scott Pruitt. "In his first address to EPA staff, the new Administrator admonished us for acting outside legal mandates and running roughshod over states' rights," Southerland wrote. Informing readers of how proud she was at how far environmental protection has come the last 30 years, Southerland also expressed a great deal of concern that this new administration was actively working to undo all of it. Southerland, the former director of science and technology in the agency's Office of Water, might have left the EPA on Tuesday, but her words will definitely leave a lasting impression.
"Under the new federalism, however, the President's FY18 budget proposes cuts to state and tribal funding as draconian as the cuts to EPA, while at the same time reassigning a number of EPA responsibilities to the states and tribes," Southerland continued in her letter, referring to Pruitt's new mandate for a "cooperative federalism" approach within the EPA. Clearly, though, when someone with 30 plus years of experience says it can't work, maybe you should listen?
Speaking with The Washington Post, Southerland said, "There is no question, the administration is seriously weakening EPA's mission by vigorously pursuing an industry deregulation approach and defunding implementation of environmental programs." Evidently, Southerland refuses to be bullied by the current administration, and stands firms in her beliefs, and the truth of science.
"In addition to defunding implementation of existing environmental regulations at the local, state and federal level," Southerland continues in her letter, "the President goes further by requiring that any new regulation be accompanied by repeal of two existing regulations of equal or greater cost."
In reality, all of Southerland's letter is crucial to read (read it all here!), and her statements are important for all Americans to understand. But, if you want just a little taste of the sass, wit, and smarts Southerland just unleashed, read her last paragraph:
Today the environmental field is suffering from the temporary triumph of myth over truth. The truth is there is NO war on coal, there is NO economic crisis caused by environmental protection, and climate change IS caused by man's activities. It may take a few years and even an environmental disaster, but I am confident that Congress and the courts will eventually restore all the environmental protections repealed by this administration because the majority of the American people recognize that this protection of public health and safety is right and it is just.
Preach on, girl.