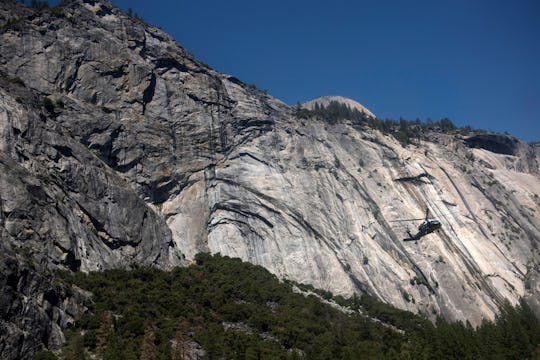 BRENDAN SMIALOWSKI/AFP/Getty Images
This Route To 47 National Parks Is A Trip Brave Parents Should Consider
On Aug. 25, 1916, Congress established the National Parks Service — a government agency whose purpose was to protect and preserve lands deemed "national parks" — and on Thursday, 100 years later, its mission remains relatively unchanged. What has changed, however, is the number of parks the National Parks Service services: in 1916, NPS oversaw 37 national areas/lands; today, the National Parks Service is responsible for 410 different sites, including historical monuments, battlefields, seashores, lake shores, and 59 national parks. But what if you could see every national park in the continental United States on one trip? Well, thanks to Randal Olson, a researcher at the University of Pennsylvania, you can, and trust me: this "road trip" to see all 47 National Parks is something you need to do with your kids — if you can take long hours in a car, of course.
Olson, who posted the route in honor of the National Parks Service's 100th birthday, explained on his website the reasoning behind this trip is two-fold — it would be both educational and enjoyable:
Many of the[se] national parks are known for their natural beauty, [their] unique geological features, [their] unusual ecosystems, and/or recreational opportunities.
However, before you pack your car — and kids — up, know this: while the trip will take travelers from Maine to California, and through 23 different states, according to The Washington Post, the 14,498 mile "national park trip" will take approximately two months to drive. (Two months!) And this timeframe will only apply "if you're traveling at a breakneck pace," according to Olson, which no one with a kid, or several kids, is able to do.
No. One.
But that doesn't mean you are out of luck. According to Olson, the map is fairly customizable:
I've designed this road trip to form a circle around the U.S., so you can hop on at any point and proceed whatever direction you like.
The trip does not include the 12 national parks located outside of the continental United States in Alaska, Hawaii, and other U.S. territories, nor does it take sightseers to, or through, the previously aforementioned monuments, battlefields, and/or other historic sites. (While these properties are under the management of NPS, they aren't considered "national parks" — and yes, there is a small, albeit important, difference between national parks and national monuments.)
But if you have nerves of steal, a nature-loving 7-year-old, and/or an immensely patient 11-year-old, this may be the family trip you were looking for. Just be sure to stock up on juice and snacks and a buttload of batteries for whatever games or devices your kids are playing with these days.