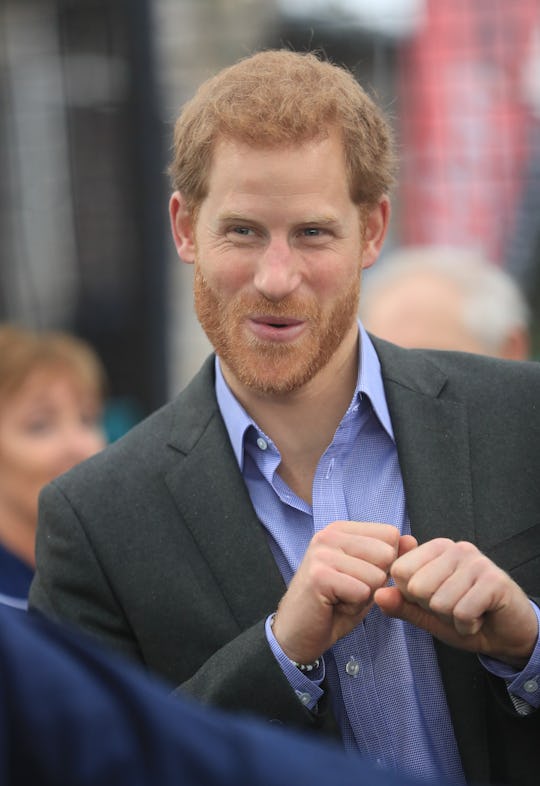 WPA Pool/Getty Images Entertainment/Getty Images
Here's Why Prince Harry Once Gave The Queen A Cheeky Shower Cap For Christmas
When I picture what the royal family members might buy each other for Christmas, visions of fancy watches, crystal chandeliers, and private Elton John concerts come to mind. So I was personally shocked to learn that the royal family's gift-giving style is actually much goofier than that. But once you read the royal family's Christmas gift tradition, you'll realize it actually makes a lot of sense for the crew.
Every Christmas Eve, the royal family exchanges gag gifts, according to Business Insider. It's a bit surprising at first, but when you think about the fact that the family can already afford everything they need, it adds up that they forgo pricey holiday gifts in favor of hilarious ones. In a piece for WalesOnline a few years ago, royal biographer Brian Hoey shared tidbits about the family's gag-gift-giving history.
According to Hoey, Anne, Princess Royal once bought her older brother Charles, Prince of Wales a white leather toilet seat. However, Prince Charles proved the present's "gag gift" title wrong when he realized how comfortable it was, and he reportedly brings it along with him on overseas trips, Hoey claimed. Additionally, Hoey noted, Prince Harry, Duke of Sussex reportedly crossed a pretty epic line a few years back, when he gave his grandma the Queen a shower cap that read "Ain't Life A B*tch." Don't worry, the Queen reportedly loved it.
Back when Prince Harry was notoriously single, Kate, Duchess of Cambridge reportedly bought her brother-in-law a "Grow Your Own Girlfriend Kit," as Yahoo! noted. I sure hope that's not how he and Meghan, Duchess of Sussex met...
The gag gift tradition has been going on for decades. Back in 1981, the year Diana, Princess of Wales and Prince Charles got married, the princess showed up to her first Christmas with the royal family unaware of the gag gift protocol. Unfortunately for Diana, she gave her new family members nice, normal gifts like sweaters. But when Princess Anne handed Princess Diana a toilet paper holder, she got the message, as reported by The Mirror. (Side note: Charles, it's your job to clue your wife in on family customs. Hopefully for Camilla, Duchess of Cornwall's sake, he has since learned this.) Luckily, Diana got the family back the following year, when she gave Duchess Fergie a leopard-print bath mat, The Mirror added. Nice, Di.
Even though the royal family seems to mostly just get each other gag gifts, the Queen still makes sure to get slightly-nicer gifts for her staff members — all 500 of them. Her royal highness reportedly asks every employee who has worked for her for at least a year what they would like for Christmas in as early as March, according to The Mirror. In the week leading up to Christmas, the Queen's staff lines up, and she hands each individual their gift. Is that in lieu of a Christmas bonus, or...?
On Monday, the Daily Mail reported that Will, Kate, Harry, and Meghan would be spending Christmas with the Queen and the rest of the royal family at The Sandringham Estate in Norfolk. Here's hoping the royals reveal this year's gag gift highlights after the holiday!
This first-time mom wants to have a home birth, but is she ready? Watch how a doula supports a military mom who's determined to have a home birth in Episode One of Romper's Doula Diaries, Season Two, below. Visit Bustle Digital Group's YouTube page for the next three episodes, launching Mondays in December.