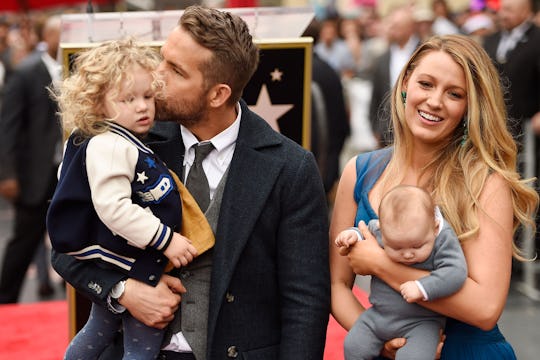 Matt Winkelmeyer/Getty Images Entertainment/Getty Images
There Could Be Another Blake Lively & Ryan Reynolds Baby Around The Corner
Celebrity couples are becoming increasingly secretive about their offspring, and Blake Lively and Ryan Reynolds are notorious followers of the trend. It's almost as if they don't realize that since they chose careers in entertainment, the public owns them and their offspring, in perpetuity. But this rumor about Blake Lively may mean more kids are on the way, giving the paparazzi yet another tiny, innocent face to stalk! I'm kidding, everyone please leave the Lively-Reynolds family alone. But if they do have another baby, perhaps they'd consider sharing an Instagram pic once and a while?
Lively and Reynolds currently have two daughters: James, who was born in December 2014, and Ines, born September 2016. Both pregnancies were expertly kept under wraps for months, but someone's spilled the beans on the alleged third kid before the couple has even conceived. In Touch Weekly has reported that they're currently working on baby number three, and although they're both "desperate for a son" (why are anonymous sources always so dramatic?) the couple is also willing to put up with another inferior female child, as "their goal has always been to have a big family." A representative for the couple has not returned Romper's request for comment.
Lively waited to announce her first pregnancy until she was about seven months along, according to Us Weekly, sharing a photo of herself cradling her stomach on her now-defunct lifestyle website, Preserve. The couple withheld James' name from the press until it was leaked, forcing Reynolds to confirm the story to Today's Willie Geist. Word of Lively's second pregnancy came earlier, at around four months, thanks to a betrayal from a wet suit while the actress was filming her woman-versus-nature thriller, The Shallows. Word of Ines' birth spread right away, but she, too, was publicly nameless for months until Us Weekly blew up her spot.
The couple has always put great effort into protecting their children from the media, and it even cost them a friend. In 2015, Reynolds revealed to GQ that a "guy that I'd known for my whole life" had attempted to sell photos of James to the media. He described the betrayal as "devastating" and said that he no longer speaks to the man. But it seems their position has softened, because in December 2016, both girls were present for Reynolds' Hollywood Walk of Fame ceremony. Whether Reynolds and Lively have stopped caring about privacy, suffered another betrayal, or aren't actually having another kid after all, we'll find out soon enough.