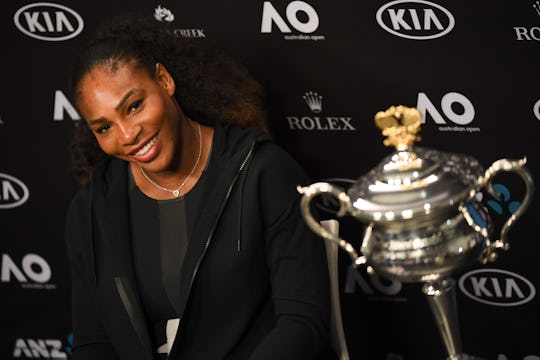 WILLIAM WEST/AFP/Getty Images
Serena Williams Wants Her Future Child To Have A Powerful Voice
There's one unequivocal truth about Serena Williams: she is fierce on and off the court. When she's not busy winning tennis tournaments, the mom-to-be is speaking out against racism and injustice, and fighting for equal pay and equal rights. And that commitment to equality is particularly highlighted in this Serena Williams quote about her future child.
According to CNBC, Williams appeared on a recent episode of "Kneaded Dough" — a show about athletes and finances on Lebron James' website Uninterrupted — and spoke about three things she would want for her soon-to-be child. While she and her fiancé, reddit co-founder Alexis Ohanian, don't know the sex of their baby, Williams said if she had a girl, she would want her to be paid equally to male athletes.
The tennis championed commented on "Kneaded Dough," according to CNBC,
If my daughter were to play a sport, and she was able to have equal prize money and equal pay or equal rights, I feel like that would be a success too.
What makes Williams' standalone quote powerful is the emphasis she places on equality. But her words become even more poignant when taken with comments she made later on in the interview.
It's well-known that Williams, like her sister Venus, is a fierce advocate for equal rights. And she hopes that, if she were to have a daughter, she could pass on that torch to her. She said in her "Kneaded Dough" interview, according to CNBC,
If [necessary], I would really want her to speak up for it. Well, any daughter of mine will have a voice.
Williams doesn't define success only by the number of tournaments won and medals earned. In those few sentences, she is also making clear that winning the fight for equal pay and rights is a victory in and of itself.
As in the corporate world, women face a wide prize money gap in sports. According to the results of 2014 BBC Sport survey, 30 percent of sports rewarded male athletes more than their female counterparts. A 2017 BBC Sport study found that gap narrowed a bit, to 17 percent, but there's still a lot more work to be done to fix that rift. (It should be noted that tennis is one of the more equitable sports, according to Forbes.)
But it's not just a matter of changing the numbers of a check. It's also about changing attitudes. Last year, Serbian tennis player Novak Djokovic suggested that men should "'fight for more' because they attract greater audiences than the women's game," according to Newsweek.
Although Djokovic was rightfully criticized for his comments, his attitude is one that is pervasive in sports — and corporate culture. One of the common arguments against equal pay is the "men work harder than women," although research shows that women actually do more at work, according to the New York Times.
Williams' quote about her future child is a reminder that there is still a long road ahead in achieving equal pay. Hopefully, if Williams does have a daughter, the gender pay gap will be long closed before she reaches adulthood.