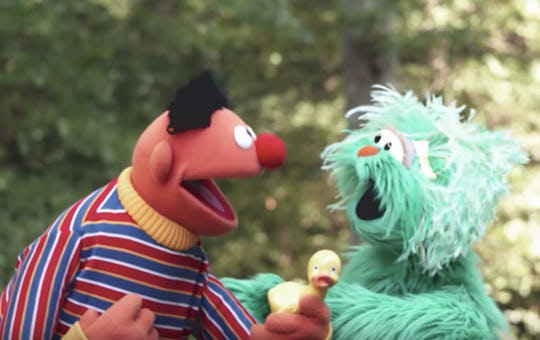 Sesame Street/YouTube
This 'Sesame Street' Parody Of "Despacito" Is Somehow Catchier Than The Original
Just when you thought you might have gotten "Despacito" out of your head this summer, the parodies start filing in. Hilariously, the best one is Sesame Street's parody of "Despacito," in which Ernie serenades his Rubber Duckie with the help of the Spanish speaking Rosita, who first appeared on the show back in 1991. You think her creators knew she'd one day be helping Ernie and Bert out with Luis Fonsi, Daddy Yankee, and Justin Bieber? Probably not.
To be honest, though, the Sesame Street version might actually be better than the original. And Ernie definitely speaks better Spanish than Justin Bieber (kidding, kidding). Ernie loves singing to Rubber Duckie, so it's not wonder that he chose to use "Despacito" as another chance to tell the little guy how much he loves him.
He sings:
Rubber Duckie, it is a connection. It doesn't have to be a tubby session, ya. Take my day from zero to eleven ... You are with me on the street everyday, speaking in your own special way.
That special way is, obviously, the squeak. That's when it actually gets good, with the chorus calling Rubber Duckie, "el patito," which Spanish for "little duck." Could this get any better?
That's when Rosita comes in with the strings and helps Ernie out. She sings the chorus in Spanish:
Oh, el patito, es mi favorito. Donde quiera que vaya hace su sonido. El patito es tu buen amigo. El paaaaa-tito.
Because this is not just a show for kids, the best part about Ernie singing might be how frustrated Bert is at the beginning and his little part at the end. Bert begins by whining, "Oh, no this song again!"
Then, when Ernie, Rosita, and el patito leave the beach, Bert walks by the camera, still singing the song and deciding that it's "not bad." Which is basically the same thing that happened to every adult with the original "Despacito." The most interesting thing about the song is how catchy it is, right?
Actually, it was a slow rise for the catchiest song of summer 2017. Fonsi wrote the song two years ago, but didn't put it on his album. But a remix of the bilingual song with Daddy Yankee and Justin Bieber has been on the Billboard Hot 100 chart for eight weeks. Which is a huge big deal — no Spanish language song has done that since "Macarena." (Which, by the way, Sesame Street did not parody officially.) That's a huge deal, especially in this socio-political climate.
Now, if only there was a way to get "el paaaatito..." out of your head. Yeah, good luck with that.