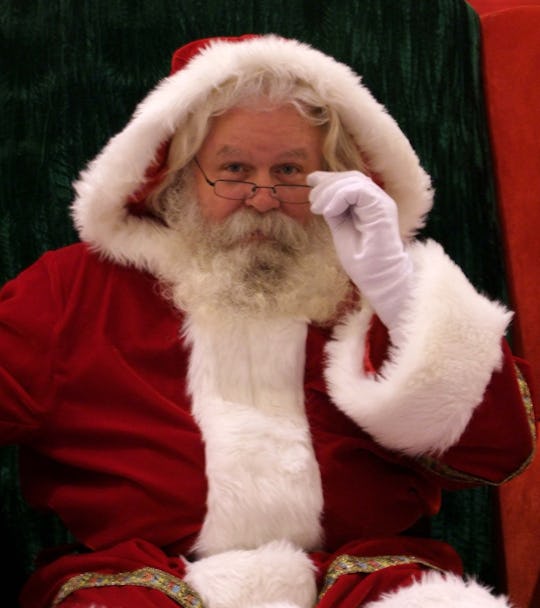 LadyDragonflyCC/Flickr
This Sexy Santa In A Mall In Canada Will Make You Feel So Many Confusing Things — PHOTOS
It's December, which means parents everywhere have been lining up in malls with their kids, patiently queuing to introduce them to Santa, and allow them to finally share their mile-long lists with him. Adorable, cuddly, typical Santa, whom we never look at twice; he's looked the same for decades — until now. Mamas, let your kids stand in line alone for their Santa. Now we have our own Santa to get a picture with: Yorkdale Mall's Fashion Santa, in Toronto. And I guarantee you'll want to tell him all kinds of secrets.
In a move that is slightly daring and revolutionary (OK, at least unconventional), Yorkdale has created a new Santa who is taking the internet by storm. 51-year-old model Paul Mason is a svelte, handsome guy with a perfectly coiffed white beard, and he's spending the month of December at Yorkdale Mall so that you and your friends can take selfies with him. The best part? For every selfie posted on social media with the hashtag #YorkdaleFashionSanta, the mall will donate $1 to SickKids Foundation, a children's hospital that is world-renowned for its incredible medical care for kids.
Cute Santa for the moms and donations to a great charity? Sign me up.
Oh, Santa. You're bringing that tree to my place, right? Cool, see you soon, bew.
I'm not quite sure his new bag will fit all the kids' Christmas presents, but maybe there's a little something for me in there, ifyouknowwhatImean?
Santa. Baby.
Canadian men sure are taking the world by storm right now, aren't they? First the new Prime Minister, Justin Trudeau and now hunky Fashion Santa. America better step up its game.
Image: LadyDragonflyCC - >;</Flickr