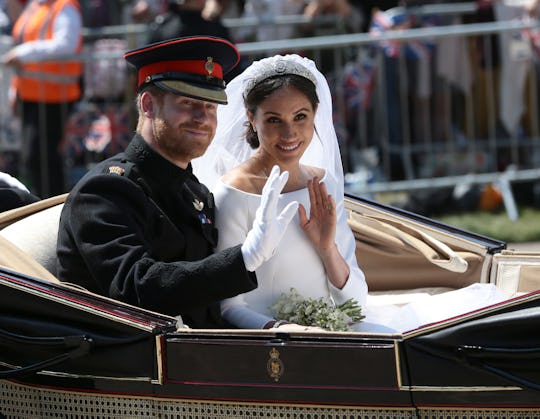 WPA Pool/Getty Images Entertainment/Getty Images
This Super Strict Shoe Rule Meghan Markle Has To Follow Is Demanded By Royal "Etiquette"
Marrying into the royal family seems like more trouble than it's worth, to be honest. She's already given up her blog, her career, and her citizenship, but this shoe rule Meghan Markle has to follow because of royal "etiquette" would be a complete deal breaker for me (in case any princes or princesses out there were getting their hopes up). According to Harper's Bazaar, we're not allowed to see the royal toes of the Duchess of Sussex anymore. "Open-toed shoes are considered informal footwear," etiquette expert William Hanson told the magazine, "and inappropriate for formal occasions".
As such, guests at Markle's May wedding to Prince Harry were instructed to wear closed-toed shoes, tights, and dresses that covered their shoulders and knees, although a few of her Hollywood pals flouted the dress code, a decision that apparently left Hanson quite scandalized. "Some of the guests' egos took over and pushed protocol to the back seat, namely Priyanka Chopra, Troian Bellisario and Chelsey Davy," he said. "It is a shame many decided they were above the dress code: if you do not like the dress code at an event, don't go." Damn, those are fighting words! But while regular folks only need to worry about such rules at weddings, Markle's everyday life is now a "formal event," so she'll have to kiss her flip-flops goodbye.
Look at her up there, with her knees, shoulders, and toenails on display for the whole world to see. I've half a mind to go buy a set of pearls, just so I can clutch them.
For a prediction on Markle's style going forward, just look to her sister-in-law, Kate Middleton, whose modest dress isn't simply a fashion choice, but a requirement of ladies of their station. Cosmopolitan has a roundup of every pair of shoes the Duchess of Cambridge has ever worn — and where to buy them, if you're so inclined — and she'd only been caught in open-toed kicks a handful of times, and only in the most casual of settings, like when she was presented with a surfboard for Prince George by the Australian government. Even then, she donned a tea-length dress with sleeves down to her elbows, and Prince William wore a blazer. On a beach! One wonders, if George actually uses that surfboard when he's a little older, will he be allowed to wear swim trunks or a wetsuit, or will he have to hang ten in a full tux and tails?
While Markle is a lot different from the royals we're used to — she's a biracial American celebrity, to begin with — it looks as though she does intend to follow the Queen's dress code; while she'd previously dared to go bare-legged in public, according to Express, she was spotted wearing tights at a garden party for Prince Charles' 70th birthday last month, which marked her first public appearance since becoming royalty.
There are tons of other etiquette rules Markle will now have follow, clothing-related and otherwise. According to The Cut, there's even a proper way to walk down stairs: "chin parallel to the ground and hands at your side." She'll also be required to curtsy to anyone more important than her, refrain from eating shellfish in public (lest she get food poisoning and succumb to the technicolor yawn in public), and always travel with a black outfit, just in case a member of the royal family dies, as it wouldn't be proper to be photographed in a Hawaiian shirt and jeans following your in-law's demise. With all that Markle willingly signed on for, I sure hope that Prince Harry is worth it.