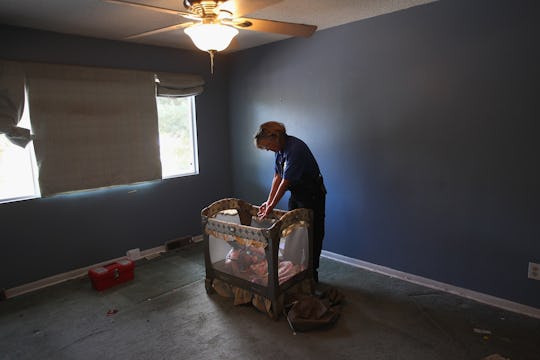 John Moore/Getty Images News/Getty Images
This SIDS Study Makes A Case For Universal Health Care
The most clinical, succinct summary of SIDS (or Sudden Infant Death Syndrome) is that it is is the sudden and unexplained death of an infant younger than 1 year old. But such an occurrence is so much more than that for parents who lose a child to such a frightening and abrupt event. It's a heartbreaking fact that SIDS is the leading cause of death among infants 1 to 12 months old, and no one is entirely sure why it happens. But some health care factors could impact the rates of SIDS, and a recent SIDS study proves why health care for all is so very important.
The study, published in the Southern Medical Journal in November 2007, found that "there is a significant association between poverty and SIDS at the metropolitan county level for NHB and NHW," here meaning non-Hispanic black and non-Hispanic white. The study aimed to examine the association between poverty in metropolitan counties of the United States to the occurrence of SIDS within those counties — and it found a significant relationship between the two.
The CDC reported that about 1,600 infants died of SIDS in 2015. So there is clearly a lot of work to be done to learn more about the problem, even in the wake of studies like the one done years before that by medical publications.
According to that Southern Medical Journal study, there is a relationship between poverty and the rate of Sudden Infant Death Syndrome. And when the risk factors for SIDS are analyzed, it becomes more clear that more limited access to health care is likely a factor in the rates of babies who die with SIDS determined to be the cause.
KidsHealth.org — a website described as being part of The Nemours Foundation's Center for Children's Health Media — lists the following risk factors for SIDS:
smoking, drinking, or drug use during pregnancy
poor prenatal care
prematurity or low birth weight
mothers younger than 20 years old
tobacco smoke exposure after birth
overheating due to excessive sleepwear and bedding
stomach sleeping
Additionally, the site reported that incidents increase during cold weather, and that African-American babies are twice as likely to die of SIDS than caucasian infants — and Native American infants are about three times more likely. Plus, more boys than girls die from SIDS.
Several of those factors would be impacted by health care availability for all. With increased counseling and guidance, smoking, drinking, or drug use during pregnancy could be decreased. Poor prenatal care would no longer be a reality for parents just because they couldn't afford said care — which is a reality for some parents under our current health care system. Prematurity or low birth weight might still be an issue, but with good health care following up such occurrences, the outcomes might be better for more babies.
Poor health care accessibility is a problem for people living at lower income levels. The Pittsburgh Post-Gazette reported that, "people in poor neighborhoods are less healthy than their more affluent neighbors but more likely to live in areas with physician shortages and closed hospitals."
If health care was guaranteed for all, everyone would have the ability to get health care regardless of their income bracket or how "affluent" they are. Although a shortage of available health care facilities may still be an issue, this greater general availability could lead to things like better prenatal care — which could — theoretically, since poor prenatal care is a noted risk factor — lead to fewer babies dying of SIDS.
That study completed by the Southern Medical Journal analyzed data and found a notable relationship between increased levels of poverty and SIDS. And a study reported on by Mother Jones led Dr. Adam Gaffney of the Cambridge Health Alliance and Dr. Danny McCormick of Harvard Medical School to argue that offering health care to all in this country would close the current disparities in access to care.
A single-payer, Medicare-for-all reform—championed by Senator Bernie Sanders during his upstart presidential campaign, as well as by many physicians and the nation's largest nurses union—would, in our view, best address health-care inequalities.
If doctors are saying health care for all could address accessibility issues, and access to health care is an issue for impoverished individuals, and there's a clear link between poverty and SIDS — isn't it time we addressed health care availability to, ultimately, address the problem of Sudden Infant Death Syndrome in this country?