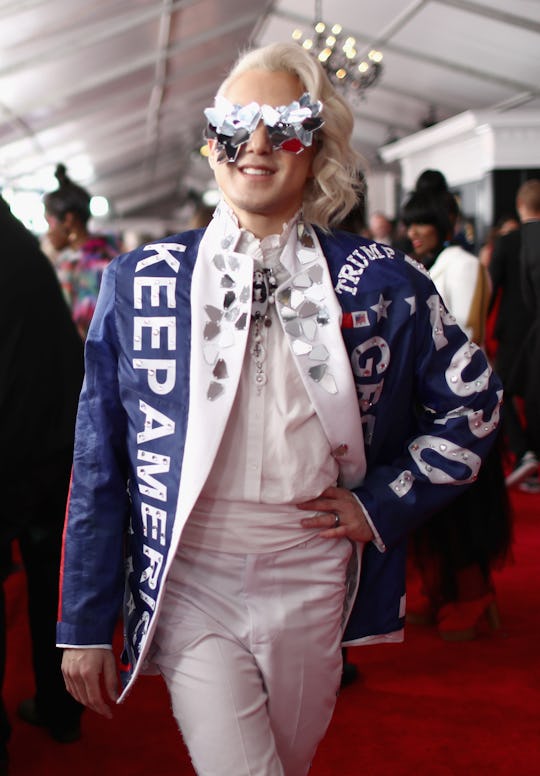 Rich Fury/Getty Images Entertainment/Getty Images
This Singer Wore A Pro-Trump Suit To The 2019 Grammys
A couple of pro-Trump fashions appeared on the red carpet at the 2019 Grammy Awards, which actually isn't without precedent. But the tweet accompanying recording artist Ricky Rebel's outfit reveal had Gay Twitter pretty upset. The singer's pro-Trump suit at the Grammys came with an incendiary message.
"I'm Billboard Top 40 recording artist Ricky Rebel live at the #grammys and I'm a reflection of the 60 million+ Americans that voted for @realdonaldtrump," he wrote in a Twitter caption accompanying a photo of his suit. "Be #TheNewAlpha Don't let anyone keep you in the closet."
Rebel's outfit featured white pants tucked into knee-high, rhinestoned white boots, and a rhinestoned red, white, and blue jacket emblazoned with the words "Keep America Great." The blazer also read "Trump 2020" across the shoulder and down the arm. #TheNewAlpha, meanwhile, is a reference to Rebel's 12-track debut album and debut single which came out in October of 2017. According to The Huffington Post, Rebel is the former lead singer of the boy band No Authority, and has danced with Michael Jackson, toured with Britney Spears, and been on Madonna's record label. The 38-year-old singer apparently considers himself an LGBTQ rights advocate and he's played Phoenix, Long Beach, Orange County, Palm Springs, San Diego, and Las Vegas Pride.
In an interview with USA Today on the Grammys red carpet, Rebel explained:
I voted for Trump because I wanted to help the economy boom and now it's booming and I'm grateful for that. I get that not everybody loves him, but it's okay if you voted for him, even if you're gay or black or a woman. I just love America and I'm very grateful for the opportunities that he gave to me — not he, but that America gave to us.
Followup tweets revealed that his jacket was actually reversible. The other side was all white with more of the same mirror panels that were sewn into the lapel of the pro-Trump side. On the back were the words "American Rebel."
Singer Joy Villa also donned pro-Trump messaging, with a dress designed as an homage to his beloved border wall. She wore clumps of barbed wire as epaulettes, along with a spiked headpiece, and across the back of her gown were emblazoned the words "Build the Wall." Both outfits clearly stirred up controversy, but it was Rebel co-opting the language of queer liberation and invoking "coming out of the closet" to show support for Trump that really got people upset.
Andre Soriano, the designer of Rebel's suit, tweeted photos of his creation, adding the caption: "RICKY & I, ARE PROUD AMERICANS! We Love Our Great Nation, The USA, and Love Our President, Donald J Trump! Land of the Free, Because of the Brave! CREATE & EXPRESS YOURSELF!"
Just last week, Rebel posted a photo of himself having brunch at Trump Tower Las Vegas, so it's not exactly a surprise that he's a Trump supporter. But still, his shocking choice in pro-Trump garb at a major awards ceremony caused more than a few people to cleanse their timelines of his tweets.