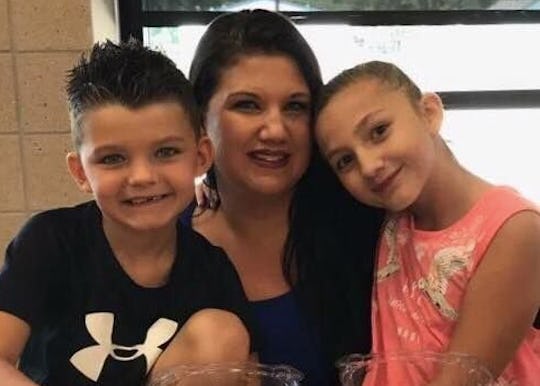 Courtesy of Michelle Srenco
This Single Mom Dressed Up Like A "Dad" For A School Event For Her Kids, & Single Parents Will Love It
Being a single parent is no easy feat, especially when you have school-aged kids. Single parents often have to navigate school functions, like graduations, performances, and other special events totally solo, which can be logistically difficult and even emotionally challenging. Not to mention single parents are usually working overtime to make sure their child feels loved and supported at these important functions, like this single mom who dressed up like a "dad" for her kids' "Doughnuts With Dad Day" at school. If you're a single parent, you'll definitely appreciate this mom's efforts to make her children feel included.
Unfortunately, many schools still haven't adjusted to the reality that not all families look the same. Some kids come from single households while other children are being raised by a loved one, like a grandparent or a family friend, for example. And then there are LGBTQ families and blended households, which account for a big chunk of America's population. In short, there's no such thing as a so-called "traditional" family. Despite this fact, however, schools are still holding events that cater to mom and dad households, like "Doughnuts With Dad Day."
Although there's nothing wrong with hosting an event to bring parents and kids closer together, events that solely focus on a dad-mom dynamic can be incredibly alienating, an experience Michelle Srenco, a single mom from Oklahoma, wanted her two kids to avoid. So, when the "Doughnuts With Dad Day" showed up on her calendar in October, she decided to dress up like a "dad" for the event so her children wouldn't feel left out, according to the Daily Mail. Kinda genius, right?
In years past, Srenco attended the "dad" events as a mom (she is a domestic abuse survivor and she left her kids' father four years ago, according to Love What Matters), but this year she wanted to try something different. So, she donned a plaid shirt, trucker hat, and faux goatee to attend the school function, and her decision was widely supported by parents at the school and on the internet. Although it's important to note here that there is no right way for a dad to dress and that a dad can still be a dad without fitting masculine gender stereotypes, the sentiment behind Srenco's efforts is 100-percent commendable. Not only is Srenco illustrating the plight of single parents, but she's also demonstrating how far a parent will go to make sure their child is supported.
Srenco said of the experience, according to HuffPost:
I want to encourage single parents to do anything for their kids. Don't let people judge you for it. I was scared and worried what people would say, but everything went amazing.
Once Srenco's touching story went viral, many parents flooded the Love What Matter's comments section to applaud her parenting and to share their own personal anecdotes:
... I was a single Mom of five, two sons. When my oldest boy was 18, I told him how proud I was of the man he was becoming. I apologized that he didn't have a good male role model growing up. He said this, "Mom, you're the best man any one could ever be. You're stronger than any man I've ever known." That's a moment that I will never forget. I cried my eyes out later with relief and gratitude. Love always makes up the difference.
From one single mom to another... keep loving and supporting your kids any way you believe is right. So proud of your bravery!
Kids remember the people who were there for them. I grew up without a dad too, but I had the best grandpa. I still remember the thanksgiving play we had in third grade. My mom and grandpa came, but left early so grandpa could take mom back to work. Which he did, then drove all the way back to my school to be there for me, again.
And some other commenters mentioned that the school should reconsider its "Doughnuts with Dads" day. One person said, "You're a great mom. It's messed up that your kids' school isn't more conscious of the fact that it's 2017. Pastries with Parents, folks, get it together. And even that isn't all inclusive." Another added, "I work at a school and we do "breakfast with a buddy" so that way it can be a parent, grandparent, neighbor, aunt/uncle, etc. I love this mom for being there for her kids!"
Even though Srenco didn't have to share her story, it's really great that she took the time to talk about her experience at "Doughnuts With Dad Day" with other parents. Hopefully Srenco's story will continue to inspire other single parent households and other families that don't fit the mom-dad mold.
Check out Romper's new video series, Romper's Doula Diaries:
Watch full episodes of Romper's Doula Diaries on Facebook Watch.