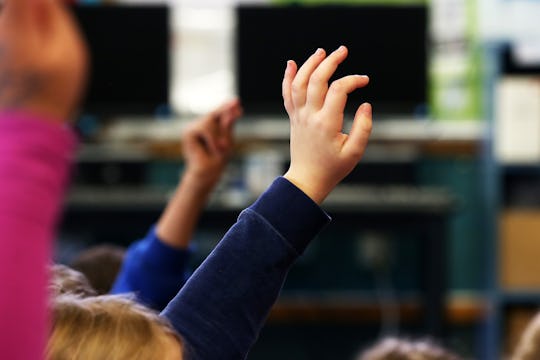 Fiona Goodall/Getty Images News/Getty Images
This State Has The Best Public Schools, But Not For The Reason You Think
For most families, public education is the best, most affordable option for providing their kids with a quality education. But finding the right school — or even the right school system — can be a challenge for families. Because states have significant latitude in how education funds are spent on each student, getting a high-quality public education in the U.S. can depend on what state you live in. And growing up in a state with a strong public school system and adequate spending, can feel like winning the education lottery. A recent WalletHub report of public school systems suggests that students in one state have reason to celebrate their schools. The report ranked Massachusetts schools the best in the country. And we're not just talking about one category; Massachusetts was named a standout state across multiple areas — and for the second year running.
But while Massachusetts typically ranks in the top 10 in terms of school spending, that wasn't the only factor used to judge the state's system. According to the report, the annual WalletHub survey looks beyond the state and federal funding mix for essentials like teacher salary to analyze factors like school performance, safety, class size and instructor credentials — reasons you would normally consider weigh heavy while ranking schooling. The company analyzed all 50 states and the District of Columbia along 21 metrics related to quality and safety, granting scores between zero and 100.
Massachusetts schools had the highest math and reading scores, according to WalletHub's report, and tied Connecticut for first place on median ACT scores. Those factors, along with high scores on overall graduation rates, student/teacher ratios, and percentage of teachers holding professional licenses, helped the state earn a first place ranking on school quality. New Jersey, Connecticut, New Hampshire, and Vermont rounded out the top five high-quality state systems, the survey found.
But for many parents, judging a school system isn't just about weighing academic opportunities. At a time when some one in three parents are concerned about their child's safety at school, the best school systems are likely to be those that take things like gun violence, bullying, and drug exposure seriously. Massachusetts ranked first on those factors, as well — followed by Delaware, Oklahoma, Maine, and Washington State.
Altogether, Massachusetts schools earned 78 out of 100 possible points, outscoring New Jersey by more than 12 points.
This latest report is just the latest in a series of wins for Bay State parents. According to a CNN report — thanks to the state's low unemployment rate, high quality of life ranking, top-notch health care system, and public school rankings — Massachusetts Governor Charlie Baker (a Republican) is considered the most popular governor in the country right now. Way to make us all jealous, Massachusetts.