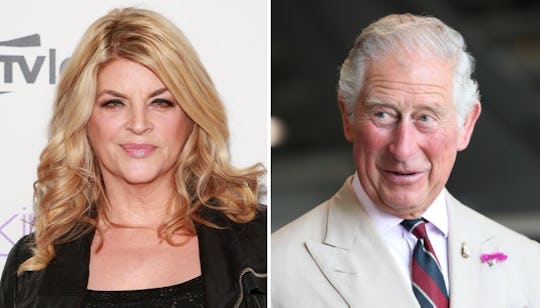 Robin Marchant/Getty Images Entertainment/Getty Images/ WPA Pool/Getty Images Entertainment/Getty Images
Kirstie Alley Claims She Once Hung Out With Prince Charles & Wait... What!?!
Ever been sitting around in disbelief while somebody told what has to be the strangest story? Fans of Celebrity Big Brother U.K. can definitely relate after Kirstie Alley's wild story about hanging out with Prince Charles. It ranks pretty high on the list of stories that make you say, "Wait, what?"
Alley has a wide variety of roles under her belt, including her performance as Lieutenant JG Saavik in Star Trek II: The Wrath of Kahn and Rebecca Howe on Cheers. Now, the actress has found herself on this season of Celebrity Big Brother as one of the housemates. Big Brother, celebrity or otherwise, is one of those reality shows that's full of head-scratchers or just weird moments and this season has offered no exception.
While sitting around the garden with her fellow housemates, as Us Weekly reported, Alley shared a story complete with some shameless celebrity name dropping. According to Alley, she's friends with Courtney Love, which is normal enough, but it's everything that followed that'll have you thoroughly confused.
"I'm friends with Courtney Love and one time, she asked me to dinner and when I came, ah, what's his name? Elton John was at dinner and there were only four of us," Alley told her housemates, according to Us Weekly, but that's not even the best part.
Alley went on to say, as seen in the clip above, before busting out laughing:
And then another time, she asked me over for "snacks" and Prince Charles was there.
Love, for those unaware, is an American singer and actress. And Prince Charles is the son of Queen Elizabeth II, currently next in line for the British throne. Clarence House, the official office for Prince Charles, has yet to offer a comment on Alley's story, as People reported, but many people took to Twitter to express their feelings.
"I just can't stop thinking about what Prince Charles could possibly have been doing at Courtney Loves house," one fan tweeted.
Another hilariously followed up with, "Where is the fan fiction about Courtney Love and Prince Charles eating snacks?!"
And one user asked the question everyone was wondering: "What snacks was Courtney having with Prince Charles?"
This isn't the first interesting moment Alley's had on the show, although it's definitely more tame. Only a few days prior, cast members and Twitter expressed their anger over the show's Trump-themed competition. On Aug. 19, according to AOL, houseguests were given a task to build a wall to prevent intruders from getting a "green card". Alley, who was appointed president of the house, delivered instructions to her roommates. In the competition, some houseguests had to dress up as "border control."
"It is my Presidential order that we build a wall, a great, great wall. The greatest wall the world has ever seen," she told the houseguests, according to AOL. Other housemates, including Roxanne Pallett and Natalie Nunn, took issues with the challenge. According to Us Weekly, Nunn said, "There's the biggest controversy in our country right now. And [Alley's] a f—king Trump supporter. That's why she hasn't said anything. I'm just not building the wall." In the past, Alley has publicly supported Donald Trump, as she tweeted in November 2016.
"Building a wall in the #CBB garden is child's play... for some," the show's official account tweeted and many users shared their distaste.
"Finding #cbb really tasteless tonight. Genuinely shocked that they're making a game and a joke out of what's going on in America right now. Completely tone deaf," one user wrote.
It seems that with her story about Courtney Love and Prince Charles, Alley was stepping back from the controversy. But, the internet has spoken, and fans, well, they have questions...